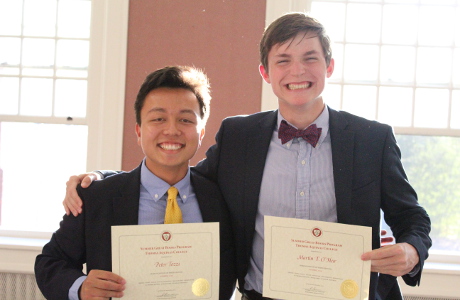 The 2019 New England High School Summer Program has come to an end!
After the last day of classes came the final recreation period — an all-campus game of Capture the Flag. Given the breadth of the campus, there was a lot of running involved!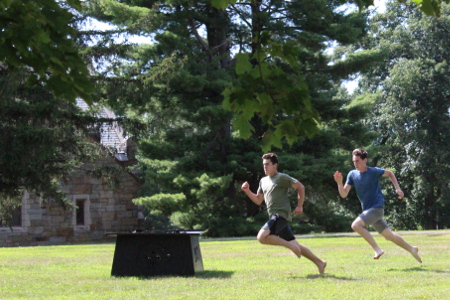 The Summer Program was then capped off with a spectacular Farewell Banquet in Gould Hall. The evening began with some remarks from Admissions Director Jon Daly and Program Director Stephen Shivone, who presented students with their program certificates.
Next came the entertainment portion of the event, which consisted of various musical performances and skits — including a comedic portrayal of the story behind Sunday night's campus-wide Clue game.
Finally the students danced until nearly midnight: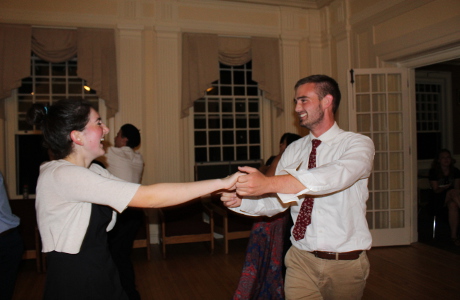 After much hugging and bidding adieu, all turned in to the residence halls and prepared for their journeys back home, with the first van leaving around 4:30 a.m., and the last scheduled to depart just after noon.
From the pre-Socratics to Euclid, from Sophocles to O'Connor; from playing ultimate Frisbee to diving on the slip-n-slide; praying at the Shrine of the Divine Mercy, at Mass, and in Adoration; going to Boston, the Connecticut River, the BBQ at the Gardners, and Tanglewood — it has been a truly blessed two weeks. The prefects have marveled, throughout, at the thoughtfulness, the responsibility, the faith, the spiritedness, and the joy of the "Bosco Boys" and the "Goliath Girls" who have set Thomas Aquinas College, New England, off to such a glorious start.
Thanks be to God!
We hope to see a good many of these students again as members of the Thomas Aquinas College Class of 2024!
We should have some photos from this morning's departures before too long, so be sure to check the blog again later!