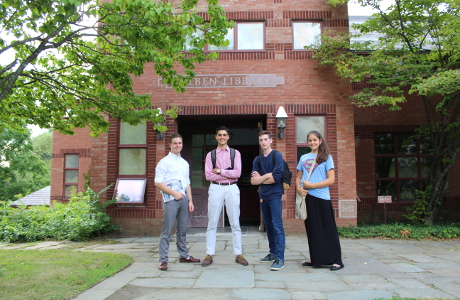 After a heavy dose of Genesis on Wednesday, students in the New England High School program relaxed that afternoon with a recreation period in Meany Gymnasium, marking the gym's first official use as part of Thomas Aquinas College. The session began with a punishing game of dodgeball — punishing because those who got knocked out of the game could only earn their way back in by running five laps around the gym floor!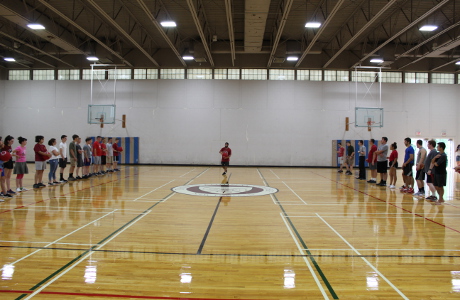 Then came some basketball …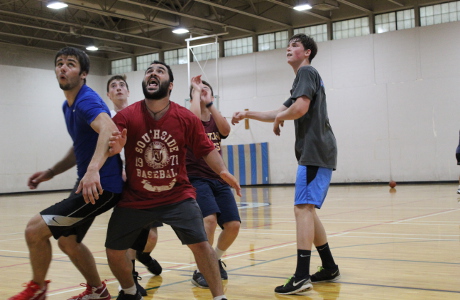 … and even some weight-lifting in the men's exercise room: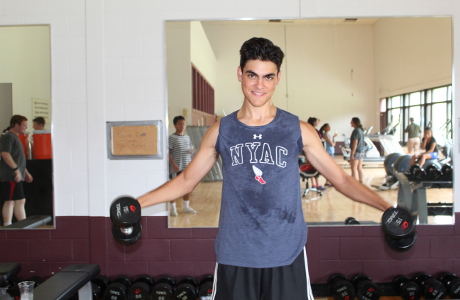 Meanwhile, over in the temporary chapel, prefect Micaela McCall held her second choir practice, offering students an introduction to sacred music. She also taught the group "Adoramus Te," which it will sing at Mass later today. (We will try to get video — stay tuned!) And, to complete this busy afternoon, there were auditions for Friday's theatrical performances, which are set to include scenes from The Importance of Being Earnest and Antigone, as well as the St. Crispin's Day Speech from Henry V, a Shakespearean rendition of "The Three Little Pigs," and a comical, accelerated version of Romeo and Juliet.
After dinner students attended study hall in Dolben Library, where they read Søren Kierkegaard's four variations of the Sacrifice of Isaac for this morning's class. Then, at nightly Rosary they were blessed with a "Holy Half Hour" — 30 minutes of exposition and adoration of the Blessed Sacrament, preceded by a beautiful reflection about vocation and God's mercy from Chaplain Rev. Greg Markey. Father offered confession during adoration, and many prefects and students alike availed themselves of the sacrament.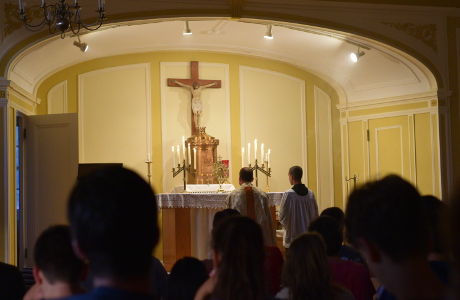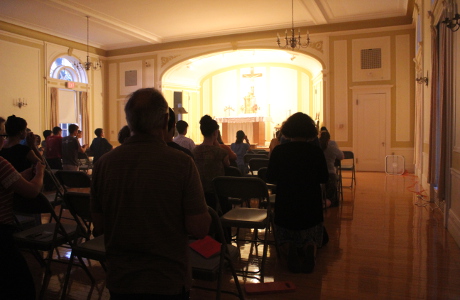 Then came the night's main event: the first dance class, held in Meany Gymnasium's dance studio. Between the summer heat and natural shyness, the students seemed a little reluctant at first, but once prefect Dan Selmeczy began teaching some meringue, American-style rhumba, and swing, their attitudes quickly changed. Indeed, after curfew the girls were seen practicing their steps back in their residence halls!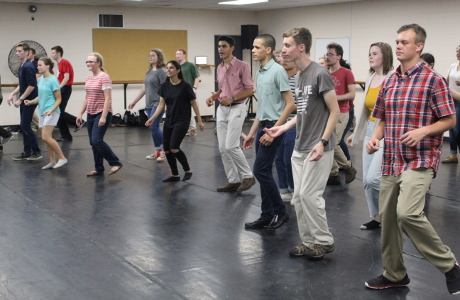 To cool off, the students then enjoyed prefect-prepared glasses of ice-cold sparkling lemonade, served in Gould Hall. Finally they returned to their residence halls, where, dance practice notwithstanding, they soon retired in anticipation of an exciting Thursday — to be highlighted with Kierkegaard in the classroom and kayaking along the Connecticut River!