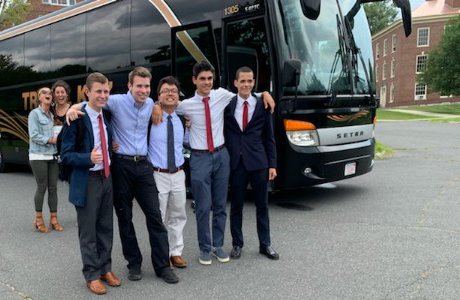 Now on their third day of Euclid, the Summer Program students are becoming ever more comfortable with the "Father of Geometry." At this morning's class, they handily demonstrated the propositions that they studied last night — Nos. 4, 9, and 10 of Book I — bisecting angles and straight lines like seasoned pros. "The students questioned whether No. 4 can really count as a 'proof,' since it seems so self-evident," one prefect reports. "They really seem to be enjoying Euclid!"
There was no afternoon class today, because after Mass and lunch (burgers), students loaded into the coach bus for the Berkshire Hills, home of Tanglewood, where the Boston Symphony Orchestra has held its summer concerts since 1937. There they will take in tonight's all-Beethoven program featuring pianist Yefim Bronfman.
As of this writing, they are still on their way there — but en route the group stopped at the National Shrine of the Divine Mercy in Stockbridge, Massachusetts. Please keep them in your prayers!