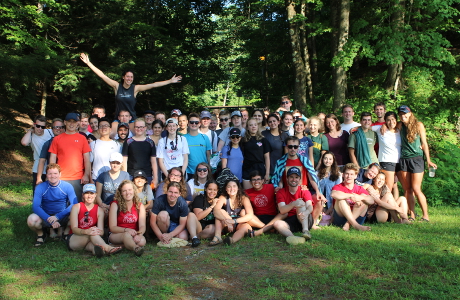 As promised yesterday, we now have news and photos from yesterday's visit to the Connecticut River!
The trip began immediately after lunch with a quick, 10-minute bus ride. After arriving at a recreation area, students relaxed, playing cornhole and Frisbee. They also enjoyed a dinner of hot dogs and hamburgers, grilled by the prefects.
After returning to campus, the students attended an abbreviated study hall, where they read up on Pascal, Fabre, and St. Thomas Aquinas in preparation for today's classes, which will examine the authors' various proofs for the existence of God. They then led the nightly Rosary in the temporary chapel, after which came auditions for Saturday's open-mic night. The prefects are pleased to report that this is a talented group, and the entertainment for Saturday looks promising!
Then it was to the lawn outside Gould Hall, where the New England students got to enjoy a special event that, due to climate restrictions, has been off limits to California students these last few years — a bonfire! Actually, there were two bonfires, around which students played instruments, sang, and made s'mores. Prefect Maggie Dillon distributed glow sticks — via a potato gun! — which created much excitement. Before night's end, a few students prayed compline with Fr. Markey.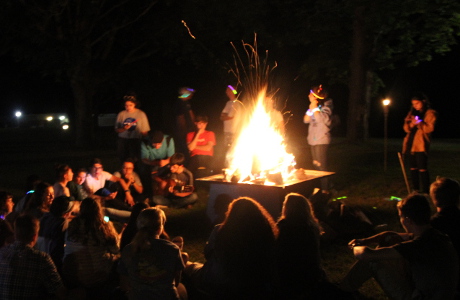 Not surprisingly, students were ready to retire when curfew rolled around. After showers, some light conversation, and nightly consecration, the group turned in to re-charge and refresh for Friday and the weekend.