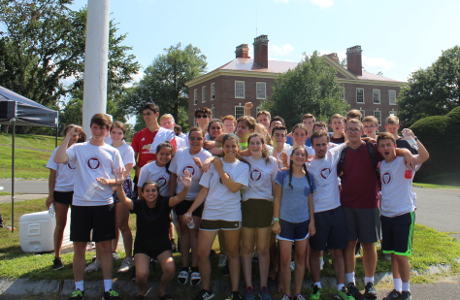 Somehow it has happened. Somehow, two weeks that seem to have only just begun are drawing to an end. On Thursday night the 2019 New England High School Summer Program students took part in their last dance class and attended their last study hall. Today they will have their last class, last lunch, and last night (for now) on the campus of Thomas Aquinas College, New England. (Make sure to see the Program recap video if you haven't already!)
Yet no one has time to get wistful. The program may be nearing completion, but that doesn't mean it's slowing down — the days are just as packed as ever! After Thursday's classes, prefects gave students the Summer Program t-shirts they are seen wearing in the above photo— after which it was time for the first-ever TAC, New England, Flagpole Race!
A variation on a new but already beloved tradition on the California campus, the Flagpole Race (or Quad Run, as it's called out West) was inspired by a classic scene from Chariots of Fire, in which Harold Abrahams successfully completes Cambridge University's Trinity Great Court Run before the King's Gate Clock strikes 12. On Thursday afternoon, some 24 Summer Program students sprinted, in trios, from Gould Hall to the campus flagpole, 300 meters away.
On the men's side, the top runner was Martin O., who completed the course in 35.04 seconds, just barely beating Thomas R. (35.22) and John-Henry E. (35.37). On the women's side, Lucy blew away all competitors, finishing with a time of 42.85 seconds. As participants in the inaugural event, the two winners have set the initial course records. We will have to wait until next year's program to see how their times hold up!
For the remainder of the recreation period, prefects set up a giant slip-n-slide outside Meany Gymnasium, which provided a fun way for students to beat the heat:
Then it was time for dinner, study hall, Rosary, and one last dance review in Gould Hall:
Once back in their residence hall, the ladies of Merrill-Keep were getting ready for bed when they heard a clamor outside. When they looked out their windows, they saw the Bosco Boys of Wilson Hall, dressed in their Sunday best and bearing chocolates and flowers. The gentlemen then proceeded to serenade the ladies by singing "Build me up Buttercup," "Can't Help Falling in Love," and "Goodnight Ladies."
We now enter the final day of the program, with classes on Euclid and O'Connor, plus one last lunch, recreation period, and Rosary — as well as the farewell banquet and dance — still to come.