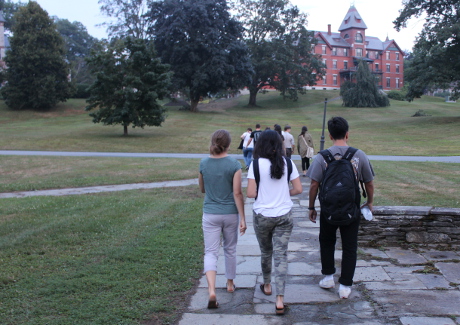 After contemplating nature and its origins in yesterday's afternoon class, about half of the students of the 2019 New England High School Summer Program experienced nature firsthand with a walk through the woods surrounding the campus. Leading the walk was Dr. Thomas J. Kaiser, the associate dean for the New England campus, a falconer, and an accomplished outdoorsman who holds a Ph.D. in biology:
Meanwhile, the other half of the group stayed on campus for a hot and intense game of Ultimate Frisbee:
After a dinner of chicken pot pie and mashed sweet potatoes, the group moved on to study hall in Dolben Library. Students quietly prepared for today's classes on Genesis: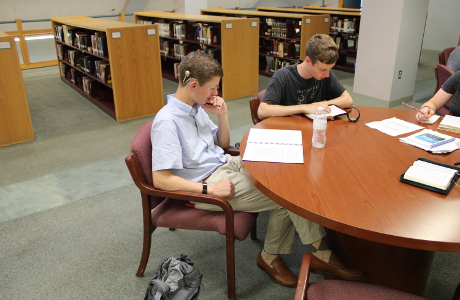 Then came the nightly Rosary, which took place in the temporary chapel in Olivia Music Hall, as the permanent chapel is still under renovation in preparation for the start of the academic year: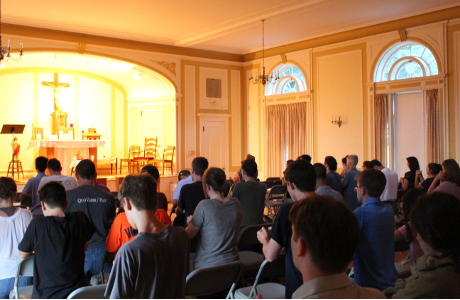 Although prefects had planned to end the night with a bonfire, some brief but heavy rainfalls put that plan on hold. (If you haven't already seen it, you must check out the rainbow photo that Dr. Hughes took last night!) The previously planned dorm parties were likewise postponed; instead, students enjoyed the nightly coffee shop session complete with ping pong, foosball, board games, and prefect-prepared chai lattes:
Come back later today for updates on today's classes on Genesis!