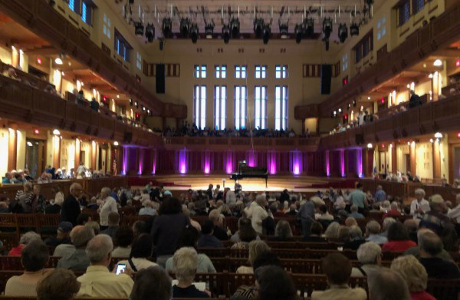 As mentioned in our most recent post, after class and study period yesterday, the students of the 2019 New England High School Summer Program made an excursion to Tanglewood, the summer home of the Boston Symphony Orchestra in the Berkshire Hills of Western Massachusetts. On their way, they paid a visit to the National Shrine of the Divine Mercy in Stockbridge, where they prayed a Chaplet and perused the shrine's extensive gift shop, picking up Rosary bracelets, Miraculous Medals, and other mementos — plus two large crucifixes for the men's and women's residence halls.
From there they made their way to Tanglewood, eating snacks of almond bars and string cheese en route. The highlight of the drive was a brief but massive storm that opened up before them, complete with dark, giant clouds, sheets of rain, and streaks of lightning. By the time the group arrived at Tanglewood, however, the storm had passed and the rain subsided. Prior to the concert, the TAC contingent stopped for dinner — which ranged from hamburgers to curry bowls — at Cindy's Café, conveniently located on the Tanglewood grounds:
After dinner students made the short walk to Tanglewood's Seiji Ozawa Hall, a 1,200-seat facility marked by its rich wood interior and surrounding balconies. The building, which conductors have ranked as among the top five concert halls in the United States, did not disappoint! Students sat directly above the orchestra and pianist Yefim Bronfman, who performed and all-Beethoven program.
"The concert hall made you feel like you were in the British Parliament or something, with people all around you at all levels," says one prefect. "We were looking directly down at the pianist's hands, which looked like crabs scurrying across the keys. They had a life of their own, and the students loved watching it." Indeed, when the performance came to an end, the students helped lead a standing ovation, which the full audience quickly joined.
Students prayed the Rosary on the bus ride home, which arrived at campus late, close to midnight. Not surprisingly, they then went straight to bed, hoping to be refreshed and ready for the latest Euclidean propositions at this morning's class!