Faith in Action Blog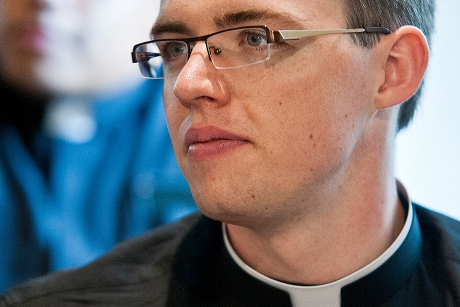 Edward Seeley ('16) | Photo credit: The Rome Experience
"Being in Rome has been awe-inspiring," writes Edward Seeley ('16). "We are being formed as men preparing for the priesthood, in order to help save souls through a knowledge of the history of the Church, through the beauty she has produced, and the firmness and maternal affection with which she proclaims Christ the Truth."
A seminarian for the Archdiocese of Los Angeles, Mr. Seeley is in the Eternal City as part of The Rome Experience, a summer program run under the auspices of the Bishops Advisory Board that allows seminarians from throughout the U.S. to "pray and study in the heart of the Catholic Church, beside the Chair of St. Peter, and at the tombs of the saints and martyrs." The program includes pilgrimages to several holy and historically significant sites, the major basilicas of Rome, and the Catacombs, as well as a trip to the Shrine of St. John Vianney in Ars, France; .
In a Postcard from Rome, published on The Rome Experience website, Mr. Seeley recounts the group's general audience with Pope Francis, dinners with Cardinal Burke and Cardinal Stafford, and a visit and tour of the Basilica of St. Mary Major. He also describes interactions with fellow tourists who "obviously aren't used to seeing a group of young seminarians tromping through small side streets or the ruins of ancient Rome," and who "engage us in dialogue, often about their difficulties with the Church and the problems they face in their lives."
Providing these inquirers with pastoral advice can be challenging, the young seminarian admits, but "what gives me the strength and hope to continue is being able to ask the saints that we visit for their intercession and guidance." Adds Mr. Seeley, "When you come to the tombs of great men like St. Ignatius of Loyola and St. Philip Neri, or those of Catherine of Siena and Claire of Assisi, you realize that you are not alone but can rely for aid on those who have gone before us."
Blog Categories
"Learning from the great books, you can see the questions that history's greatest thinkers have asked and all the ways that they have tried to answer them. You're able to see what's right about what they're saying, but also what's wrong. The more your opinion is challenged, the more you have to refine it in order to get closer to the truth."
– Caleb Skvaril ('19)
Asan, Guam
NEWS FROM THE COLLEGE
CALENDAR
"Thomas Aquinas College is uniquely positioned and equipped to let light shine once more in our world, in our society, in our communities, in our families, in our relationships."
– Most Rev. Paul S. Coakley, S.T.L., D.D.
Archbishop of Oklahoma City