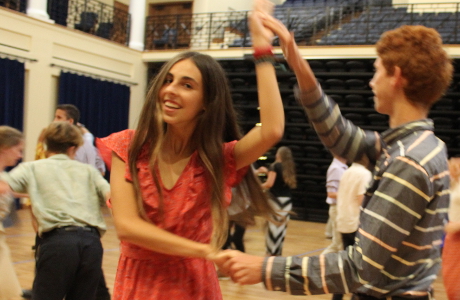 When we last left off, students were at their third dance class, which, according to the prefects, was a tremendous success. In addition to teaching the group how to waltz, Dan Selmeczy also showed them a number of moves to incorporate into their two-step. "They did very well!" says one prefect. "At first there was a lot of looking down at their feet, but as they went on, they increasingly started to look up, at each other. So there was real progress!"
For the remainder of the recreation period, prefects set up a giant slip-n-slide by the athletic field, which provided a fun way for students to beat the heat. The slip-n-slide was so popular that the prefects plan to bring it back this afternoon: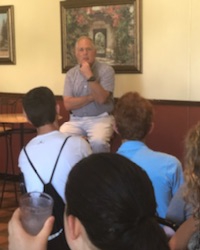 During dinner, tutor Dr. Thomas Kaiser presented a talk in the Dumb Ox Café for students who may be interested in the campus that the College hopes to establish in New England, contingent upon the approval of the Massachusetts Board of Higher Education. A member of the College's first graduating class, Dr. Kaiser has been appointed to head the prospective New England faculty. Should the College open its doors in Massachusetts in the fall of 2019, some students at this year's High School Summer Program will likely be members of the branch campus' first class, and Dr. Kaiser spoke to them about what their experience as pioneering freshmen could be like.
After dinner came study Hall, where students diligently read their Boethius for today's classes, and then went off to various classrooms to practice Propositions 11, 13, and 15 from Book I of Euclid's Elements:
Then, after nightly Rosary, students made their way to St. Gladys Plaza for Theology on Tap, where prefects served root-beer floats, and Fr. Sebastian answered previously submitted questions about a wide range of topics. There were more than 100 questions in all, which the Summer Program chaplain divided into various categories, such as Scripture, the liturgy, morality, and theology. Questions ranged from the role of Mary, to intercessory prayer, to vocations. For the final 20 minutes, Fr. Sebastian took spontaneous questions from the audience, including from several non-Catholics, which largely focused on sin, such as, "How do we know if we are sinning?" "Can mental illness mitigate culpability for sin?" "How about ignorance?"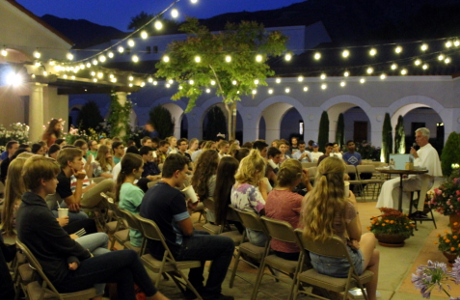 Theology on Tap ran all the way up until curfew, after which students returned to their residence halls for conversation and hot dogs, more propositions practice, and  — for some — an early bedtime.