Yesterday we began a three-part series introducing the prefects for this year's High School Summer Program. Below is part 2:
Thomas Cain ('18)A member of the College's newest graduating class, Thomas Cain ('18) of Santa Paula, California, is returning for his fourth Summer Program. "I cannot wait," he says, "because each year seems to get better." He is most looking forward to reading and discussing the texts, as well as playing in the volleyball tournament. "Give all of yourself to the program," he advises students. "Even if you don't end up becoming a freshman here, these two weeks will change your life." At summer's end, Thomas plans to backpack in Europe for three months, and then hopes to begin studying for the priesthood. "Keep me in your prayers," he says. "You all are in mine."
Micaela McCall ('20)Like fellow prefect Graham Crawley ('20), rising junior Micaela McCall ('20) of Denver, Colorado, was a "second-time freshman" who enrolled at the College after first studying elsewhere. "I spent a year at the Conservatory of Music at the University of Cincinnati before converting to Catholicism and 'transferring' to TAC," she explains. "My heart longed for a bigger conversation, one about the leading philosophies of Western civilization, the relationship between God and man, and the works of literature that stand out as the best for giving such a vibrant depiction of humanity." The Summer Program, she finds, offers students a wonderful opportunity to enter that bigger conversation. "See the classes as simply an extension of your life," she says, "where you get to seek answers for questions that matter to you."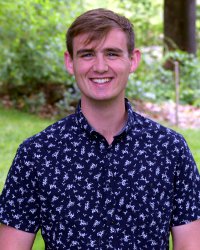 Joseph Guinee ('21)Although a first-time prefect, rising sophomore Joseph Guinee ('21) of North Andover, Massachusetts, is a Summer Program veteran, having attended as a high school student in 2016. "My favorite memory was sitting outside the Hollywood Bowl, eating pizza with the great friends I had met," he recalls. "I'm looking forward to seeing this year's students read the great books, and to see how that experience will spark in them a desire to seek truth and read yet more great books!" In his spare time, Joseph enjoys cooking, photography, and dancing. His advice for the Summer Program students: "Get plenty of sleep, and talk with everybody you can."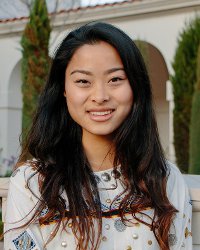 Siena Hsu ('18)After graduating from the College this spring, Siena Hsu ('18) spent the beginning of the summer with the family of fellow prefect Seamus O'Brien ('20) in Wisconsin, "planting seeds, fishing, milking cows, sausage-making, and generally getting a very un-Californian experience."  She has also been hard at work on her design portfolio, and she hopes to soon land a job as an in-house designer for a publishing company. This year marks her second as a Summer Program prefect and her first as a Catholic, having entered the Church at this spring's Easter Vigil. "I love running and hiking," she says. "And would love to do both with any students who are interested!"
Helen Blain ('20)Four years ago, Helen Blain ('20), then a rising high school junior, made the trip from her hometown of Albuquerque, New Mexico, to Santa Paula for the Thomas Aquinas College High School Summer Program. Four years later — and now a rising junior at the College — she is serving for the second time as a program prefect. Expect to see her often on the athletic field: She enjoys any and all sports, especially rock climbing and soccer. She greatly looks forward "to getting to know all the students," adding that she is "super excited" because her sister will be one of them. "Wear sunscreen," she recommends. "And if you truly dedicate yourselves to the readings, the classes will be even more enjoyable and engaging!"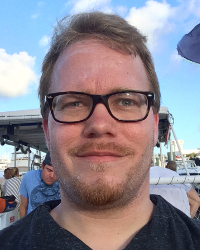 Daniel Selmeczy ('08)A teacher at St. Monica Academy in Pasadena, California, Daniel Selmeczy ('08) is best known as the Summer Program's dance instructor, turning neophytes into skilled dancers in time for the end-of-the-program dance. Now returning for his eleventh year as a prefect, he marvels at how he came to attend the College at all. "I was an atheist and was accepted to study marine biology at UC Santa Barbara when I first visited TAC," he recalls. "During that visit, I fell in love with the program and was accepted to attend as a freshman that same year. Within a year I had converted to Catholicism, which to this day has been the single greatest blessing of my entire life." His favorite memories of past years' programs are the conversations in the dorms and, not surprisingly, the dance lessons.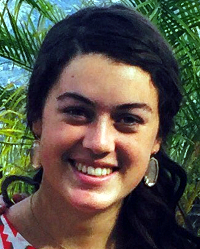 Meg Downes ('20)"I'm very extroverted and love getting to meet new people, and then really getting to know them," reports Meg Downes ('20), a rising junior from Hickory Corners, Michigan. As one might guess, she is eager to meet the students on this year's Summer Program. Indeed, this second-year prefect's favorite memory of last year's Summer Program was the opening-night ice-breakers, from which sprung countless new friendships. "This is the last group of high schoolers who, if they come to the College as students, will be here at the same time as my class," she observes, noting that she would be a senior during this group's freshman year. Meg loves volleyball and anticipates some intense matches on the College's courts during afternoon recreation time.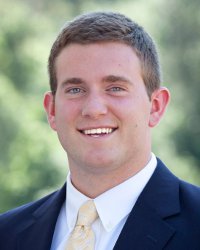 John Jost ('17)When he was in high school, John Jost ('17) strongly considered going to college on a swimming or baseball scholarship — until he attended the High School Summer Program. "It changed my life," he says. "And it's the greatest decision I have made thus far." During the program, he discovered that "there was something bigger in life than sports," and that he "actually liked reading." He is returning for his fourth year as a prefect while on vacation from his work as an account executive for a Fortune 1000 technology company. "I have learned so much from this job," he says, "but the foundation and habits I developed at TAC gave me the opportunity and ability to succeed in the business world, right out of college."
Stay tuned for Part 3 tomorrow!