To escape the heat after yesterday's Summer Program Quad Run, students quickly found their way to the campus ponds for "watermelon water polo," in which teams attempted to bring a greased watermelon across the pond and to the opposing team's goal. First up was the women's match …
… and then the men's:
After changing their clothes, the students went to dinner and then study hall, where, for the first hour, they continued their reading of Boethius' Consolation of Philosophy. Then, in the second hour, they once again made their way to various classrooms to practice — with the help of their prefects — demonstrating Euclidean propositions on the blackboard. "The students are starting to get it," reports one prefect. "They are coming to recognize that, in learning the props, it's not about memorization, but about seeing the order, the logical progression, and that the order is essential for moving from what is more known to what is less known."
From there it was onto the nightly Rosary, then coffee shop in St. Cecilia Hall, where students enjoyed chocolate milkshakes and iced mochas prepared by their prefects: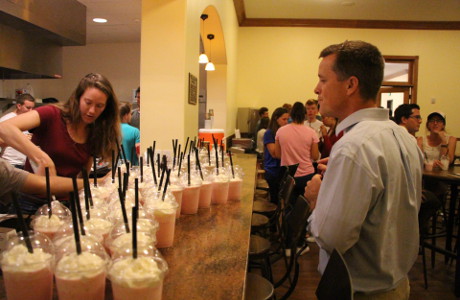 They also played cards …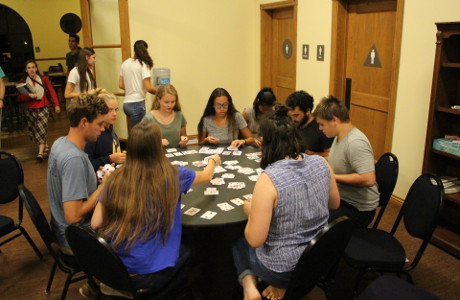 … ping-pong …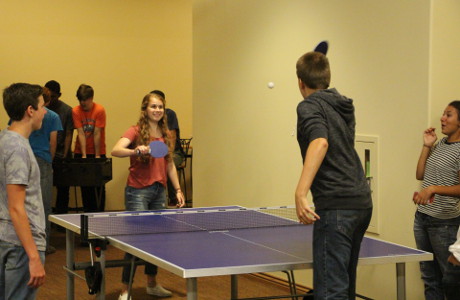 … and foosball …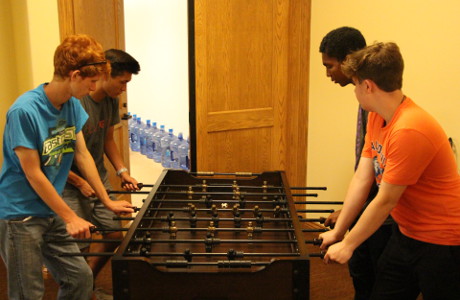 … while others attended an optional dance class (Lindy Hop) or continued working on their props. After curfew, cheese and crackers were served in the residence halls, but most students retired early. "They seemed pretty tired," one prefect observed. "I think it was the watermelon polo!"
Tonigh Fr. Sebastian will lead a session of "Theology on Tap," in which he will answer anonymous questions about the Faith while students feast on root beer and ice cream. The question box, which has been accepting queries since yesterday, is filling up and ready to be opened!