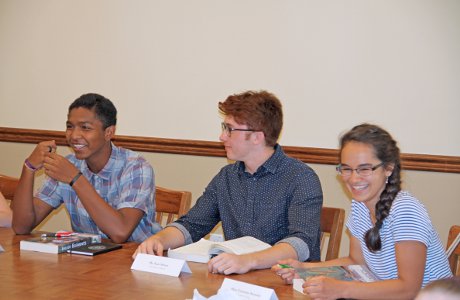 Now on to their third day of Euclid, the Summer Program students are becoming ever more comfortable with the "Father of Geometry." At this morning's class, they handily demonstrated the propositions that they studied last night — Nos. 4, 9, and 10 of Book I — bisecting angles and straight lines like seasoned pros. "The students were much more confident and less intimidated," one prefect reports. "They were asking questions about how one thing is known by reference to previous ones."
At the end of the first class, most students went to the Chapel for Mass, followed by lunch in St. Joseph Commons. Midway through the meal, the prefects approached the table of student Jean-Baptiste from Palo Alto, California, bearing a cupcake. As they begin to sing "Happy Birthday," the whole room joined in:
After lunch, students attended their afternoon class, the second on Boethius' Consolation of Philosophy. They considered the question of happiness and what is commonly thought to bring it about, such as wealth, power, or honor. Gradually, the sections worked their way through the text to the realization that those things we often associate with happiness are limited goods — fragments of a larger, true happiness that can be found only in God, the supreme good.
As of this writing, dance class is under way, and students are looking forward to a Coffee Shop talk later this afternoon: Tutor Dr. Tom Kaiser will speak about his experience as a member of the College's first class, as well his role in the College's efforts to establish a second campus in New England. Then, after dinner and study hall, will be root-beer floats and Fr. Sebastian's much-anticipated "Theology on Tap."