Posted: February 21, 2020
Last week the Office of Career Advisement hosted a visit from Ray Walshe, a regional vice president and energy underwriter for Starr Technical Risks Agency, a Los Angeles-based insurance provider that underwrites some of the world's largest and most technical industrial properties. Over the course of 90 minutes, this father of two TAC students — one past, one current — spoke about the insurance industry, the types of careers available within it, and why it is a good fit for Thomas Aquinas College graduates.
"Insurance is, in effect, a promise in exchange for money," Mr. Walshe told students on the College's California campus. "It's about trust, and that makes insurance a relationship-based business. What I do day in and day out is relationship-building. I am constantly building relationships with the people I work with."
In that regard, the College's students have, by virtue of their Catholic liberal education, a "deep understanding of why integrity matters" that will serve as an advantage in the job market. Furthermore, they "bring a unique set of skills to the workplace," including critical thinking, a solid background in mathematics, strong communication abilities, and "a knowledge of many disciplines and how they connect with each other."
At Starr Tech Mr. Walshe oversees underwriting activities throughout the 11 western states and has clients across the U.S. with insured properties around the world. Insurance offers a stable, well-paying career with little need for relocation or overly long hours, he said, and it does not require the extended education requirements of, say, law or medicine. Although he holds a Bachelor's of Science in mechanical engineering from California State Polytechnic University, Pomona, and an MBA from the University of Redlands, Mr. Walshe stressed that his educational path is by no means the only one to a successful insurance career.
"This is what I tell anyone who will listen," he said. "You can go get an engineering degree at Cal Poly. You can go get an MBA. But why don't you just go to Thomas Aquinas College and get the benefits of doing both in one place?" At the College, he explained, students "get into the weeds" and develop the discipline to examine fine details closely, while also learning to "look at the big picture and the interconnectedness of all that you are learning."
Mr. Walshe's visit comes shortly after his company's hiring of a member of this year's Senior Class, Michael Murphy, who will begin working with the firm after his graduation in May. Mr. Walshe's advice to Mr. Murphy, he said, is the same he would offer to anyone looking to pursue a career in insurance: "You've got to be prepared and comfortable with the idea that you won't know what you are doing for a long time," he said. "You have to be willing to ask questions. I think you guys, coming to this school, are probably willing to ask questions, right? That's a key part of being a successful underwriter. You have to ask a lot of questions because there is a lot to learn that you don't know, and you've got to figure it out."
Mr. Walshe's presentation was the latest in a series of events sponsored by the Office of Career Advisement, including discussions on law, psychotherapy, job-search strategies, and online networking. These events serve not only to help students develop the skills they need to succeed after graduation, but also to recognize the wide range of opportunities that their liberal education affords.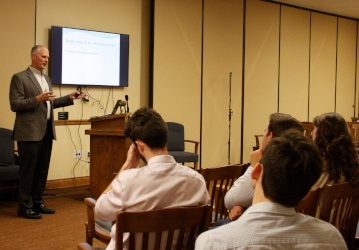 Ray Walshe speaks to students on the California campus.
"There's a joy for life here you don't get in most places, a sense of purpose, a sense of love and fellowship bound up in our common cause of seeking the truth."
– Isaac Cross ('19)
Leominster, Massachusetts
"On behalf of the Church in Phoenix, I want to express my appreciation of the witness to Christ offered by the faculty, staff, and students of this exceptional institution, and to thank you for your love of learning and your desire to offer fitting worship to the Blessed Trinity."
– Most Rev. Thomas J. Olmsted
Bishop of Phoenix
NEWS FROM THE COLLEGE