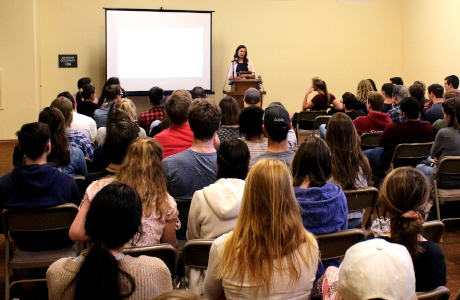 Alumna Maggie Tuttle ('10), who works as a Senior Customer Success Manager for Talent Solutions at LinkedIn, returned to her alma mater last Sunday to present a workshop about how students can use the professional-networking site in their career searches. "Many people who come from Thomas Aquinas College, because of the things that we study, the way that we study, the way that we are expected to show up in the classroom and with our friends — you just bring something unique to the table," she said. "Keep that in mind."
Her 45-minute talk — held on the California campus but made available, via simulcast, to students in New England — focused on how to use LinkedIn to discern a career, land a job, and stay abreast of developments in one's career field. "I have been in recruiting and talking to recruiters my whole time out of TAC," she said. The experience, she added, has given her many insights into how job applicants can maximize their prospects for getting hired. Among these:
Maggie Tuttle ('10)"Fake it till you make it" — although liberally educated students may lack direct training in a particular field, they are fast learners who can quickly bring themselves up to speed.
"Have a growth mindset" — always look for opportunities for you and your company to move forward.
"Deliver Excellence" — never produce less than your best work. "No matter what you do, you never know when some small ask, or some seemingly minuscule task, can be something really, really important that that one critical person will notice," said Miss Tuttle. "That can change your whole career."
"Creativity, persuasion, collaboration, adaptability, and time management" — these are among the "soft skills" that employers actively seek and which are often the fruits of a liberal education.
The world's largest professional social network, LinkedIn boasts more than 660 million users, acquiring two more every second. Over the course of her presentation, Miss Tuttle showed students how to make a LinkedIn profile, explained what sort of information it should include, and demonstrated how they can engage the network in such a way as to make them attractive to prospective employers.
Upon graduating from the College in 2010, Miss Tuttle began as a recruiter for Force 10 Networks before moving on to a similar position at Balance Pro Tech one year later. She has worked at LinkedIn since 2012, where she oversees some 250 accounts, each representing as many as 15-20 recruiters.