Catholic Professionals Advise Students at Career Strategies Workshop
Posted: February 6, 2020
Last Saturday the College's Office of Career Advisement hosted a Career Strategies Workshop for students on the California campus, who participated in person, and for New England students, who took part via video teleconference. "The goal of today is to give you a broad and overarching look at the process of discerning a career," Director of Student Services Scott Benigar told students on both coasts. "That includes finding which job is for you, putting together a résumé and cover letter, and the interview process."
Leading the discussion were three Catholic professionals, all with deep ties to the College. Having worked for several of the country's most prominent businesses, they were able to share their wisdom about how best to apply the benefits of a Catholic liberal education in the marketplace.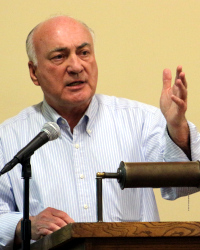 Dennis McCarthyFirst up was Vice President for Finance Dennis McCarthy, a Harvard Business School graduate who previously held executive positions at such firms as EF Hutton, Drexel Burnham Lambert, and Boustead Securities. Focusing mostly on career discernment, Mr. McCarthy urged students to "give it some thought, be introspective about what you have done to date and what you enjoy doing, then orient yourself to those kind of jobs." The College's classical curriculum, he added, is especially good preparation for the modern business world. "There are a lot of skills that you are developing, day in and day out, that are highly marketable," he said. "It's just a matter of explaining them in a way that an employer will understand."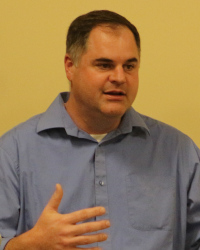 Mark Kretschmer ('99)Following Mr. McCarthy was the College's director of operations, Mark Kretschmer ('99), who, prior to coming to work for his alma mater, was the youngest branch manager for Kinko's, Inc., in the Los Angeles market. While offering broad advice on a variety of topics, Mr. Kretschmer mostly discussed the elements of a well-constructed résumé and cover letter. "Ask yourself these questions," he advised: "'What is it about this company that is appealing to me? What is it about the leadership, the culture, the structure, the service, the goods, whatever it is that they do?' And 'Why do I think that I am going to be successful if I get this job? What about it is a match for my skill sets?' Your letter should include a clear, concise, articulate answer to these questions."
Adam MeringThe last panelist, Adam Mering, is the father of a TAC sophomore and the regional vice president at PeopleReady, one of the largest industrial staffing agencies in North America. Recounting his extensive experience as both an interviewer and interviewee, Mr. Mering offered suggestions for ways students can make a favorable impression with prospective employers. "You're going to get an opportunity in the interview to ask questions, and you need to take advantage of it," he told the students, encouraging them to devise behavior-based questions about how the company has faced certain circumstances in the past. "If you ask a question like that, they are going to remember — no matter what happens in the rest of the interview — that you were engaged enough to really make them think."
Following the presentations the panelists answered students' questions on subjects ranging from interview-preparation to graduate school. The Career Strategies Workshop is the latest in a series of events sponsored by the Office of Career Advisement, including discussions last semester on law and psychotherapy and a LinkedIn workshop planned for next week. These events serve not only to help students develop the skills they need to succeed after graduation, but also to recognize the wide range of opportunities that their liberal education affords.
"I think you TAC students are what America needs — frankly, what the globe needs," said Mr. McCarthy in closing. "I encourage you to consider positions of leadership, because you've got talent. And with you in positions of leadership, I think we're a much better world."
"There's a joy for life here you don't get in most places, a sense of purpose, a sense of love and fellowship bound up in our common cause of seeking the truth."
– Isaac Cross ('19)
Leominster, Massachusetts
"I admire this college and your faithfulness to the Church's mission for higher education and the New Evangelization."
– The Most Rev. José H. Gomez
Archbishop of Los Angeles
CALENDAR
NEWS FROM THE COLLEGE