Faith in Action Blog
The College is pleased to announce the priestly ordination of four alumni this summer, bringing us to 50 priests in our first 40 years! The newest alumni priests are:
1. Rev. Edmund Waldstein, O.Cist. ('06), ordained by Christoph Cardinal Schönborn, O.P., Archbishop of Vienna, on June 19, 2011. Fr. Waldstein is a Cistercian at the Stift Heiligenkreuz monastery outside of Vienna. The photo above shows him on his ordination day (left) along with his fellow new priests and Cardinal Schönborn, the College's 2004 Commencement Speaker.
2.
Rev. Jonathan Perrotta ('95), ordained by the Most Rev. Earl Boyea, Bishop of Lansing, at St. Mary Cathedral in Lansing, Mich., on June 11. Fr. Perrotta was recently profiled in Faith, Lansing's diocesan magazine. The profile is available here. (Scroll to the bottom of the page.)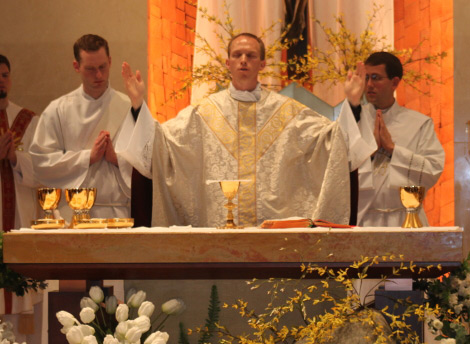 3. Rev. Nick Blaha ('02), ordained by the Most Rev. Joseph Naumann, Archbishop of Kansas City, on May 28. In the photo to the left, Fr. Blaha is shown offering His first Mass.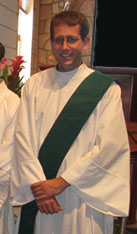 4. Rev. Joseph Dygert ('02), ordained to the priesthood in Colorado Springs on June 19. On the right is a picture of Fr. Dygert when he was still Deacon Dygert.
Blog Categories
"It is amazing to read all the different works from a wide range of disciplines, and see the same truth popping up again and again — whether it's in Euclid, or theology, or natural science. It all comes together to form a full picture."
– Isabella Hsu ('18)
Redondo Beach, California
NEWS FROM THE COLLEGE
CALENDAR
"I am happy with the mission of Thomas Aquinas College and with the results spread through various countries in the world!"
– Most Rev. Lionginas Virbalas
Metropolitan Archbishop of Kaunas, Lithuania