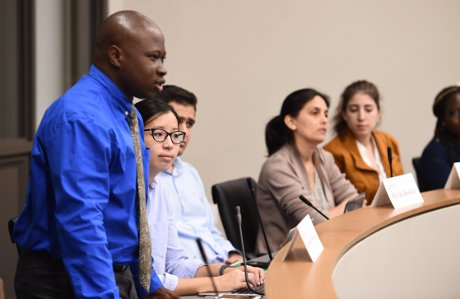 Nnadozie Onyekuru ('17) poses a question to Rep. Brendan Boyle, from the University of Notre Dame Keough School of Global Affairs website
Class of 2017 graduate Nnadozie Onyekuru is quoted in a recent story in Scholastic, the student magazine at the University of Notre Dame, where he is one of 38 students in the inaugural class at the University's Keough School of Global Affairs.
A citizen of Nigeria, Mr. Onyekuru has an abiding interest in international relations, particularly the role of the Church and Church teaching in global affairs. While at Thomas Aquinas College, he and some friends launched Cor Unum, an annual event that celebrates both the Universal Church and the College's international reach.
"It is difficult to understand in America the role that religion plays in the world because Americans are very careful about religion," the article quotes Mr. Onyekuru as saying. "But it does play a role, and depending on the actors, that role can be good or bad. … That is, in a sense, why the Keough School exists, to be able to train people to not be deficient in that."
Mr. Onyekuru also appears on the Keough School website, which recently posted the above photo of him questioning a visiting congressman, Rep. Brendan Boyle. The recipient of a Donald & Marilyn Keough Fellowship, Mr. Onyekuru is working toward a master's degree in global affairs.