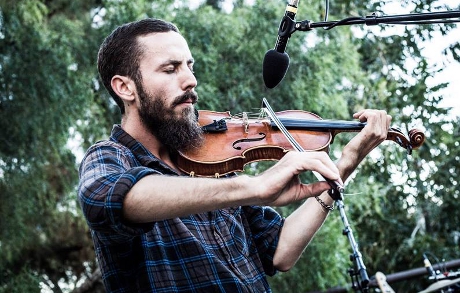 Friends of Sean Wood ('13) staged a lively and generous farewell for him last weekend at a benefit concert at the Camarillo, California, home of College Regent Justin Schneir and his wife, Hope. The concert, The Barnyard Folk Fest, raised just enough  funds — almost down to the penny! — to cover what remains of Mr. Wood's student-loan debt, and thus paves the way for his entering the religious life. One week from today, on the Nativity of the Blessed Virgin Mary, Mr. Wood will begin his postulancy with the Franciscan Friars of the Renewal in the Bronx, where, by God's grace, he will spend a life of service to the poor on the streets of New York City.
For the last several years Mr. Wood has been the fiddler for the Schneirs' eponymous band, Hope and Justin, playing alongside fellow graduates Daniel ('13) and Gabriel Bagdazian ('14). To send him off, his bandmates put together the Barnyard Folk Festival as a final hurrah and an opportunity to wipe out his debts before he takes this next step in his vocational discernment. The Hope and Justin Band headlined the concert, which drew hundreds of music lovers and well-wishers to the Schneirs' home and involved the help of countless volunteers — many of them TAC alumni, students, and parents — who acted as performers, cooks, vendors, drivers, and technicians to make the day possible.
Thanks be to God for the Schneirs and the many generous souls who lent their time, treasure, and talent to the support of this would-be priest. And thanks be to God for Mr. Wood's willingness to answer His call.
"We are astounded by the goodness of people," write Hope and Justin on their Facebook page. "Sean is going to be a most excellent priest and friend of the poor. He loves you all!"