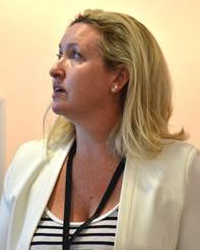 In its newly released Catholic Higher Education issue, Legatus magazine profiles an alumna of the College, Jane Neumayr Nemcova ('98), vice president and general manager of global services for machine intelligence at Lionbridge, a global language services provider.
"In the rapidly developing field of artificial intelligence," writes author Brian Fraga, Mrs. Nemcova "is playing her part to ensure that ethics will influence the emerging technology." A mother of three children and holder of three master's degrees, she specializes in linguistic support for machine learning and artificial intelligence, employing her expertise in the language localization industry throughout the world.
"Her field is extremely technical," the story continues, but "it was her classic liberal arts and philosophy education at Thomas Aquinas College … that gave her the intellectual foundation to make sense of how future technology will impact human societies." Indeed, studying the great books under the light of faith "has turned out to be an invaluable asset for a business career."
Says Mrs. Nemcova of her undergraduate education, "It's not only a nice thing to have, but it's very important for the future," given current technological trends. "Artificial intelligence is going to put a lot of pressure on people to learn how to learn. I think Thomas Aquinas provided an outstanding education for that."
The full profile is available via the Legatus website.