Summer Program Blog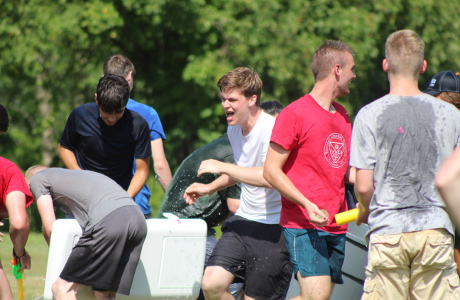 Last we posted, students had just wrapped up their second class of the 2019 New England High School Program, an examination of Plato's Euthyphro. From there it was the first afternoon recreation period of the program, highlighted by Section Wars — a series of relay races and other contests waged between the various sections, or classroom groupings, of students.
The activities included racing while carrying an egg on a spoon in one's mouth; sprinting while wearing a soaked, XXXL TAC sweatshirt; three-legged races; and a balloon toss that quickly devolved into an all-out water war complete with super-soakers! Afterward, the games continued with soccer and volleyball on the athletic fields.
Pleasantly exhausted, the group then made its way to a pizza dinner, followed by the first study hall of the program in Dolben Library. The prefects report that this is a studious, thoughtful group of students, who took on with gusto the night's readings of Sophocles' Antigone and texts from the pre-Socratic philosophers.
Then it was time for the nightly Rosary in the temporary chapel in Olivia Music Hall, led by prefects, followed by the first "Coffee Shop" of the program. Meeting up in Gould Hall, students enjoyed an evening of board games, ping pong, and Telephone. They were also treated to Shirley Temples and professional-grade mochas prepared by prefects Joe Guinee and Simone Kelly, who, in her part-time job back in California, was named "Barista of the Year" in Ventura County.
At curfew the students returned to their residence halls for chips, salsa, and conversation. "The girls were all tired and went to bed early," reports one of the female prefects. For the boys, however, the night was still young!
It is the College's practice to name its buildings after saints, meaning that pretty much all of the newly acquired buildings on the New England campus need patrons. And so the boys staged a playful debate about for which saint their residence hall, Wilson, should be named. Andrew Rossi led the conversation and Joe Guinee played the role of "Devil's Advocate," arguing vehemently against any and all proposals. In total, some 40 saints were considered, but the clear crowd favorite was St. John Bosco. "Bosco! Bosco! Bosco!" the boys repeatedly chanted — drawing Joe's feigned outrage.
At last they called it a night. At breakfast the seven-point scale question of the morning was: "How would you rate the character of Antigone, with 1 being a complete narcissist, and 7 being a saintly martyr?" Average ranking: 5.
Come back this afternoon for reports from today's classes!