Summer Program Blog
When we left off yesterday, the New England High School Summer Program crew were off to the Creamie, and the trip did not disappoint! The walk to Northfield's beloved ice-cream shop took about 25 minutes, after which students delighted in cones, sundaes, and milkshakes made from the wide array of gourmet ice creams that the creamery imports from dairies throughout the northeast. Some popular flavors included Columbian Coffee, Peanut Butter Thunder, and Deep Purple Cow (blackberries in cream with chunks of dark chocolate).
A two-hour "siesta" was supposed to follow the return to campus — at least that's what the prefects encouraged — but a good many students (and prefects!) used the time to explore the area instead. Several asked prefect Jean Guerriro to bring them to New Hampshire, whose border is only one mile from campus, and he gladly obliged.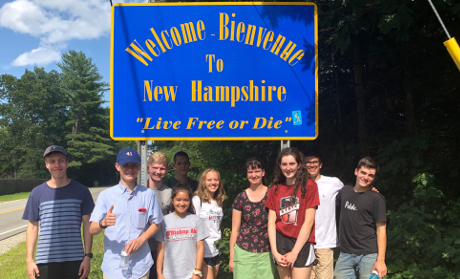 The highlight of this peaceful day, though, was the family-style barbeque, hosted by Assistant Dean Patrick Gardner, his wife, Kate, and their six sons at their on-campus home. Because Thomas Aquinas College, New England, is starting out small, the tutors expect that, at least in its first years, the school will be much like Thomas Aquinas College, California, was at the time of its founding — intimate and family-focused, with students coming to know well the tutors, their spouses, and their children. The barbeque gave the Summer Program students a great sense of that kind of community, which will be their home for four years, should they come here for college.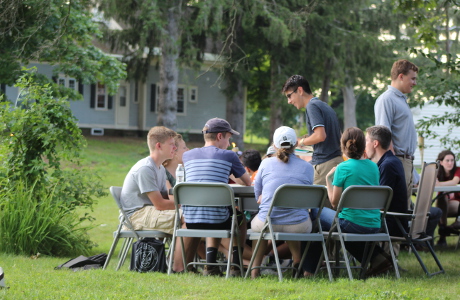 Dr. Gardner — famous for his ability to cook delicious meals for large crowds — lived up to his reputation by preparing pulled pork on his smoker, accompanied with coleslaw and macaroni and cheese. The students, meanwhile, played Spikeball and tossed around a football, while others took on the tutors' children in an unexpectedly lopsided game of ultimate Frisbee. "The tutors' kids were, on average, about half as tall as the high schoolers," one prefect reported, "but they crushed them." It was a humbling experience for the high school students, to be sure, but it gave them something to look forward to should they become students at TAC, New England — vengeance.
With the weekend winding down, the students attended Rosary in the temporary chapel …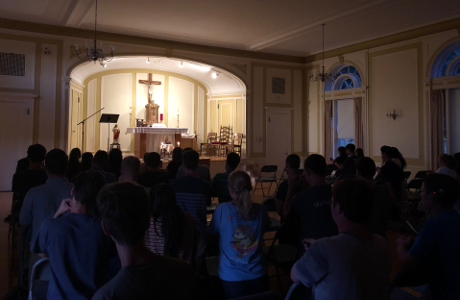 … they then got back to work at a 90-minute study hall in Dolben Library. After a weekend of travel and adventure, the group found the silence a refreshing respite, happily returning its attention to the great books that make up the College's classical curriculum. The students got their first taste of Euclid, learning about his definitions, common notions, and postulates, as well as Boethius — the subjects of today's two classes.
The night concluded with a campus-wide detective game loosely based on the classic mystery board game, Clue. Teams of students made their way from building to building, trying to solve the "murder" of Resident Assistant Isaac Cross (chosen to be the victim because, since it was his night off, he was nowhere to be see). At each building they met one prefect, who, playing the role of one of the suspects, provided them with some information about who committed the crime, where, and with what weapon. Once they assembled all the clues, they were able to solve the crime. (Spoiler alert: It was Professor Selmeczy, with his dance moves, in Gould Hall.)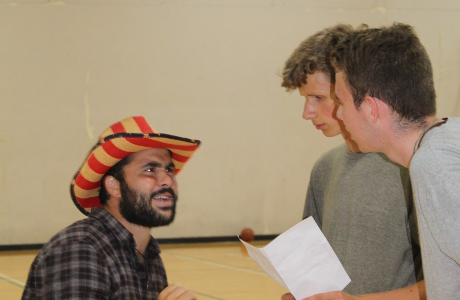 Mystery solved, it was time for bed. Euclid and Boethius await!