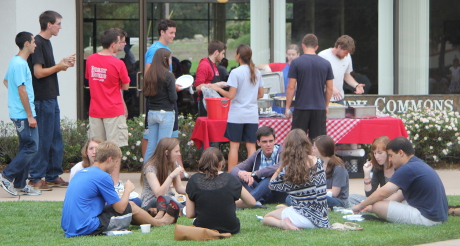 Wednesday night barbeque outside St. Joseph Commons
Wednesday afternoon's volleyball tournament was, as predicted, exciting and competitive, "or fierce and exhausting," as prefect Chris Sebastian describes it. Of course, Chris is probably just being gracious, as his team ("Team USA," as it dubbed itself, co-captained by Cecilia Goyette) bested all others to make it to the championship round against the faculty squad. Alas, despite the encouraging chants of "USA! USA!" from fellow students, who surrounded the court, the team fell to the tutors in two close sets.
After the tournament, the group headed up to St. Joseph Square for a leisurely summer barbeque. From there it was study hall, with some students going to St. Bernardine of Siena Library, and others to St. Gladys Hall. The night's readings were chapters 11 to 25 of Genesis and excerpts from Kierkegaard's Fear and Trembling, specifically the Exordium and the Eulogy of Abraham — all in anticipation of Wednesday's conversations about the nature of God's promise to Abraham and the sacrifice of Isaac.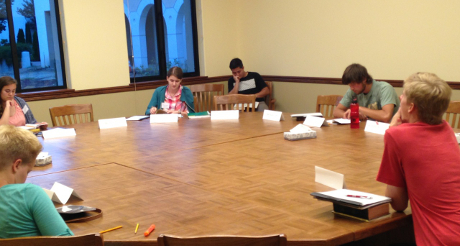 Study hall in St. Gladys Hall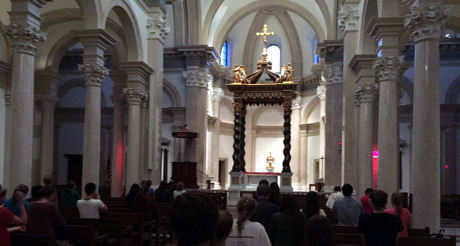 Rosary in Our Lady of the Most Holy Trinity Chapel
When study hall concluded, the students prayed the Rosary in Our Lady of the Most Holy Trinity Chapel and then made their way back to St. Joseph Commons for the first of three planned dance classes. Prefect Dan Selmeczy led the instruction, aided by fellow prefect Aileen McCarthy. Students learned some basic steps for the merengue and swing, which they will put to use at the end-of-the-program dance next Friday.
At the end of the class, some students kept dancing; others retired to the coffee shop; and others met up at the arch in front of St. Gladys Hall for a Comedy of Errors rehearsal. The actors worked on their blocking, as well as their emotion and diction, in a mad rush to prepare for Friday's much-anticipated performance.
The night ended back in the residence halls with pretzels, fire pits, and visits from the chaplains. Fr. Paul and Fr. Nick visited with the men, and Fr. Sebastian with the women. Then it was time for nightly prayers, lights out, and the end of Day 4 of the 2015 Summer Program.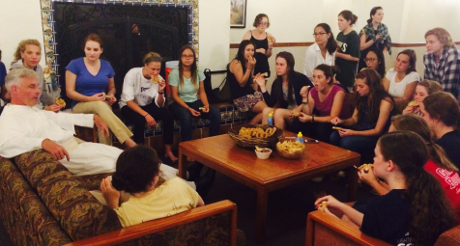 A visit from Fr. Sebastian

Fire pit in the men's courtyard