Following up on last week's introductions of the 2015 High School Summer Program chaplains, we now present the first in a three-part series introducing this year's prefects: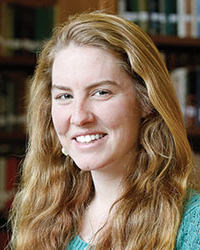 Sarah Dufresne ('14)The women's head prefect for this year's High School Summer Program is Sarah Dufresne ('14), who has served as a prefect on two previous programs and is currently the College's resident assistant. A onetime volunteer for her high school's campus ministry team and an occasional missionary with Justice for All's pro-life campus outreach, Sarah sees being "radically available" as key to working well with young adults. In her roles as a Summer Program prefect and resident assistant, she has organized numerous student outings, including early-morning runs, a pancake breakfast, hikes, a women's campout, and a trip to Ventura's Grant Park Cross.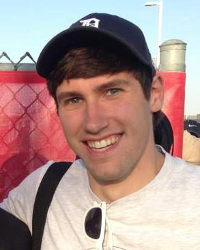 Chris Sebastian ('13)Returning for his sixth High School Summer Program as a prefect — and first as men's head prefect — is Chris Sebastian ('13). A graduate of the College who attended the program as a high school student in 2008, Chris is the public relations and marketing coordinator for the Mother of Divine Grace distance-learning program. "I'm always gratified by the seriousness with which the students tackle the difficult subjects they discuss during the program, from questions of fate to the existence of God," he says. "These students give us much hope for not only the future of Thomas Aquinas College, but also for the whole world."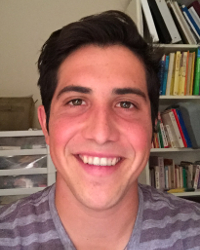 Anthony Maza ('15)A member of the College's most recent graduating class, Anthony Maza ('15) attended the High School Summer Program in 2010 — a turning point in his life. Despite having already decided to attend college elsewhere, "after two weeks of thinking, I decided TAC would teach me best how to be truly wise," he remembers. "The College utterly changed my life, and I made the best friends here." Later this summer he will head off to Colorado to pursue graduate studies in theology at the Augustine Institute, but first he looks forward to "ultimate Frisbee, volleyball, and talking about the hard questions of life" during this year's program.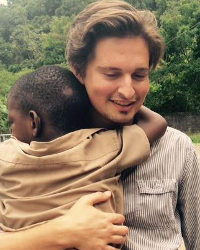 Khyber White ('15)"The thing I enjoy most about the Summer Program," observes Khyber White ('15), "is being able to introduce our college and the life of liberal education to a new generation of students." A recent graduate and convert to the Catholic faith, Khyber has a passion for international affairs as well as playing medieval and Middle Eastern instruments, including the Turkish bağlama. (If we're lucky, maybe he will play it for us on the program.) He has participated in numerous medical missions to Western Africa with his father, who is a doctor, and he will volunteer this fall as a tutor at a Catholic school in Jamaica.
Samantha Wiebersch ('16)A rising senior at the College, Samantha Wiebersch ('16) is returning for her second year as a prefect. "I am thrilled to come back!" she says. "Having the chance to meet so many incredible high school students and engage them in the academic, social, and spiritual life that I love so much is the opportunity of a lifetime." She is spending the summer in her hometown of Delafield, Wisconsin, providing therapy for an autistic boy. Although she loves her job and the time with family, she cannot wait for the program to begin. "Sharing what you love with people you love — it doesn't get much better than that."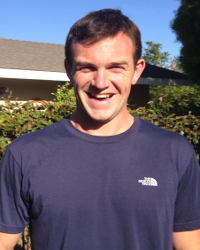 David Langley ('15)This summer will be the fourth that David Langley ('15) has served as a prefect on the High School Program. "I enjoy getting to know the young men and women," he says. A member of this year's graduating class, David spent last summer performing research in chemistry at MIT's Jamison Laboratory. This summer he is busy studying for the Medical College Admission Test, after which he plans to apply to at least five medical schools. Thus the Summer Program will serve as something of a study break for him, although, like all prefects, he will be reading the great books along with the students.
Aileen McCarthy ('14)Fresh from a nearly nine-month missionary trip to Cordoba, Argentina, Aileen McCarthy ('14) is returning for her fifth High School Summer Program as a prefect. In Argentina she did various forms of service work, such as aiding terminally ill cancer patients, helping out at orphanages, and tutoring poor children. She is now working for a magazine in her hometown of Gallup, New Mexico, from which she will be taking a break to rejoin the Summer Program. The reason she gives for returning to the program every summer? "I love this opportunity to give back to the College."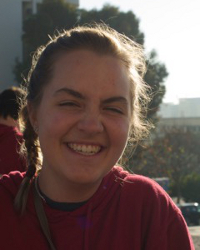 Clara Diodati ('17)When Clara Diodati ('17) attended the High School Program in 2012, she found the experience so powerful that she wrote a song about it. "I don't know that I would be at TAC if it weren't for the Summer Program," she says. "So it means a lot to me, and I'm very excited to give back and meet all the programmers this year!" A rising junior from Ave Maria, Florida, she delights in the students' "genuine enthusiasm" for the life of the College. "It reminds me not to take what I have for granted," she says. "July 19 can't come soon enough!"