Tuesday began with breakfast and the morning class. Building on Monday's discussion of piety in Plato's Euthyphro, students considered issues of duty, law, fate, family, and the state in Sophocles' Antigone. Then, before lunch, a photographer came by to get a photo of each class section — and one of the entire group — on the steps by the Guadalupe Fountain:
In the afternoons class, students examined the works of the pre-Socratic philosophers, contemplating questions of causality and nature. Afterward came the afternoon recreation period, highlighted by sports — volleyball, Frisbee, soccer, and basketball — hiking and swimming at the campus ponds, and picnic-blanket art projects with watercolors and markers.
At the same time, the Summer Program prefects held auditions for the upcoming student performance of Shakespeare's The Comedy of Errors, drawing some 20 thespians to the student lounge. Aspiring actors re-enacted scenes from past performances, including songs and a stirring rendition of Marlon Brando's "Stella" scene from A Streetcar Named Desire. The directors announced the roles for Comedy of Errors later that evening, after which the cast got together to watch a video of the play.
After dinner students prepared for Wednesday's classes by reading the first 10 chapters of Genesis at study Hall. They then met in Our Lady of the Most Holy Trinity Chapel for the nightly Rosary: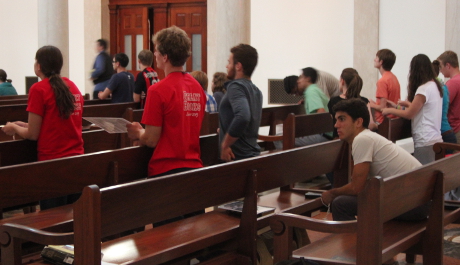 A brief coffee-shop gathering followed, after which prefects hosted parties in the men's and women's residence halls. For the women, it was a peaceful night of ice-breakers, conversation, snacks, music, and dancing in their festively decorated courtyard. The men, meanwhile, found their common area transformed into a gladiatorial arena for a fierce tournament of whiffle-ball dodgeball, with the team captained by Chris Sebastian handily vanquishing those led by Patrick Cross, Andrew Rossi, and Anthony Maza. Afterward, the men gathered in the courtyard for an impromptu yet heartfelt singing of the National Anthem, and David Langley regaled them with a performance of some Scottish tunes and "Amazing Grace" on the bagpipe.
After prayers, it was lights out — and exhaustion! — at 11:30.