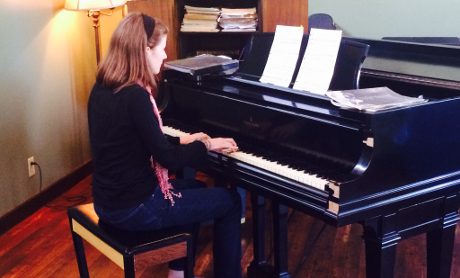 Open Mic Auditions
Thursday afternoon's class lived up to students' expectations, with the discussion of Kierkegaard's Fear and Trembling proving to be both challenging and illuminating. One student reported that, because the reading was so engrossing, her section had the most engaging and fruitful discussion to date.
All in all, the students seems to be getting a handle on the Discussion Method, with different personalities taking on certain roles in the class — e.g., one who asks questions, another who raises objections, and others who offers critical insights. Students have expressed gratitude for the tutors, who step in to right the conversation when it goes adrift, and who propose carefully chosen opening questions to launch the discourse.
The afternoon recreation period consisted, as usual, of various sports on the campus athletic fields, plus a spontaneous game of water polo in one of the campus ponds:
Meanwhile auditions continued for Saturday's Open Mic night. "We have a lot of talented students here," says women's head prefect Sarah Dufresne. "There were a lot of guitars and a dueling pianists act. It looks like we are going to have a very good Open Mic Night."
Next came study hall, during which students prepared for Friday's classes by reading Pascal's "Wager," Fabre's observations of bees, and the "fifth way" of St. Thomas Aquinas's Summa Theologiae, which aims to prove the existence of God through order in nature. At nightly Rosary students were blessed with a "Holy Half Hour" — 30 minutes of exposition and adoration of the Blessed Sacrament, preceded by a beautiful reflection on the Holy Eucharist from Fr. Sebastian. The chaplains offered confession during adoration, and many prefects and students alike availed themselves of Christ's mercy, with lines forming for all three.
Afterward, the cast of The Comedy of Errors returned to St. Augustine Hall for a rehearsal, while a few students practiced swing dancing by the Guadalupe Fountain. Up in the campus coffee shop, prefect Andrew Rossi set up various board games. Admissions counselor Pat Cross and prefect Andrew Grimes, meanwhile, set up a picture-drawing station, with would-be artists' posting their creations on the coffee-shop window. Below are some examples of their creations: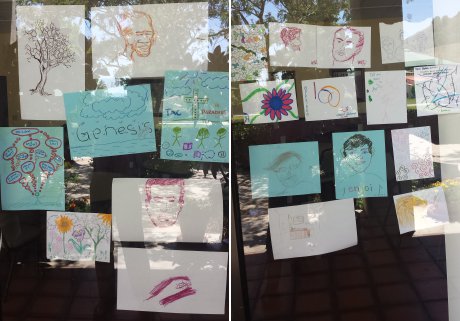 After curfew the priests once again paid a visit to the residence halls, where students enjoyed cheese and crackers before prayers and turning in for the night.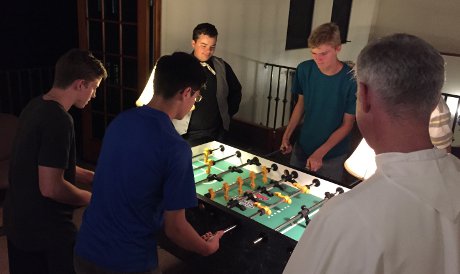 Foosball with Fr. Sebastian in the men's residence hall