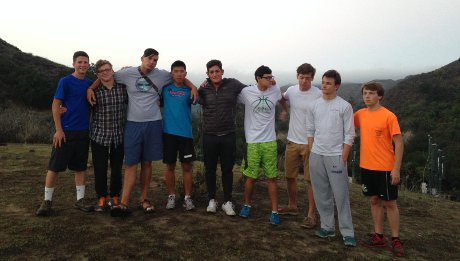 Despite their busy and late Wednesday night, a hearty group of Summer Program men arose early this morning for a sunrise hike. Led by prefects Matthew Plaisted and Matt Dugan, the crew crossed Ojai Road, climbed the hill overlooking the College campus, and returned — all before most of their peers ever got out of bed.
At this morning's class the sections resumed yesterday's conversation about Genesis. They pondered such questions as, "Was Cain angry with Abel, or angry with God?" "Did the Flood accomplish what it was supposed to in terms of wiping evil from the face of the earth?" Several sections then moved on to the second day's readings and discussed God's promises to Abraham and Abraham's compliance with them. At lunch, students expressed excitement over this afternoon's class, during which they will consider Abraham in a more philosophical sense based on their reading of Kierkegaard's four variations of the story.
Toward the end of the lunch period, prefects hosted auditions for Saturday's Open Mic night, including vocal numbers, piano duets, a guitar performance, two skits, and a dance. There will be more auditions later today, as well as afternoon recreation, dinner, and — at tonight's Rosary — exposition of the Blessed Sacrament.