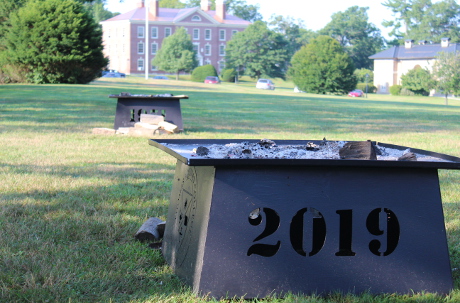 The above photo is a carryover from Thursday night's bonfire. Thomas Aquinas, New England, owns two of these gorgeous fire pits, the handiwork of Facilities Manager Steve Wiggin. The fire pits feature the College crest plus "1971" and "2019" — the founding dates, respectively, of the California and New England campuses!
As previously reported, students awoke from the bonfire revelry on Friday morning and plunged themselves into two different kinds of arguments for the existence of God, probabilistic and reasoned. Afterward it was time for the daily recreation period, which featured soccer on the athletic field …
… and a rehearsal for the evening's theatrical productions, held in Gould Hall: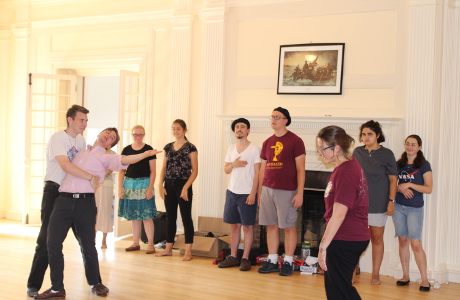 Afterward prefect Dan Selmeczy led his second dance class, also in Gould Hall. He tried this new location because the last one — the dance studio — proved, ironically, to be a less than ideal place to dance. "The studio was made for ballet, and so the floor was almost sticky," Dan says. "It didn't have that smooth, practically slippery surface you want for rhumba and swing steps." So this time Dan tried Gould, where the hardwood floors were just resurfaced this spring. "The result was great," he says. "The students found their dance steps much more satisfying!"
From there the group moved on to the small theater in Dolben Library, where students performed scenes from The Importance of Being Earnest and Antigone, as well as the St. Crispin's Day Speech from Henry V, a Shakespearean rendition of "The Three Little Pigs," and a comical, accelerated version of Romeo and Juliet. The student actors were a big hit — eliciting a standing ovation from their peers at the end of the performance.
As the sun began to set, the students then participated in a Stations of the Cross procession around campus, led by Chaplain Rev. Greg Markey. As there are no permanent Stations on the new campus (yet!), student prefects held up images of scenes from the passion and death of Christ, at which the students prayed at regular intervals during their walk across campus.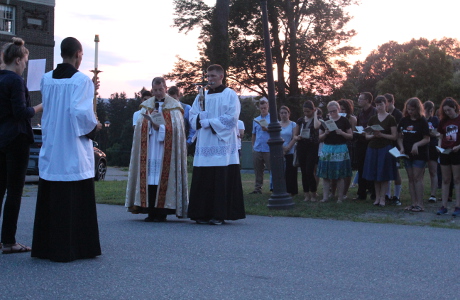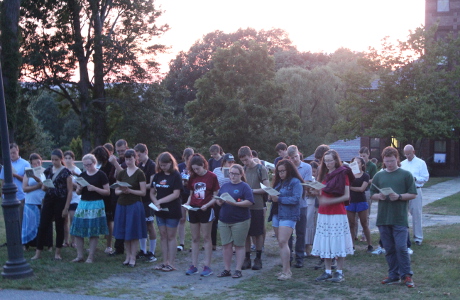 To conclude the night, the students returned to the library theater, where prefects Maggie Dillon and Joe Guinee put on a presentation about all the group will experience on today's outing — a trip to Boston! Afterward the students remained the theater to watch Remember the Titans, enjoying a snack of movie-theater popcorn and candy. Then it was time for consecration and bed, in anticipation of today's big trip!
Come back later for photos from Boston!