Faith in Action Blog
"Seeking to pass on the wisdom of Western civilization, which was founded on Christian principles, a grassroots movement of parents, educators and others is reviving classical education in the Catholic tradition."
So begins Classical Education Makes a Comeback, a story in the latest edition of the National Catholic Register that features two graduates of the College who are at the forefront of the classical-education revival: Dr. Andrew Seeley ('87) and Mr. Michael Van Hecke ('86).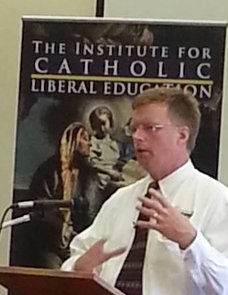 A tutor at the College, Dr. Seeley is also the executive director of the Institute for Catholic Liberal Education in Ventura, California, which promotes authentic Catholic education and assists classical schools across the country. The goal of Catholic liberal education, he tells the Register, is "a Christ-illuminated understanding of what the human person is in all our capacities," adding that "an encounter with Christ and Christian civilization fulfills and develops students."
Mr. Van Hecke is the headmaster of St. Augustine Academy, a K-12 classical school with 150 students in Ventura, California, and president of the Catholic Schools Textbook Project. "We don't want our children to aim for college and a career. We want them to aim for the good life," he says. "Do you think our Founding Fathers (just) aimed for college and career? If they would have done that, we wouldn't have America."
The full story is available via the Register's website.