Faith in Action Blog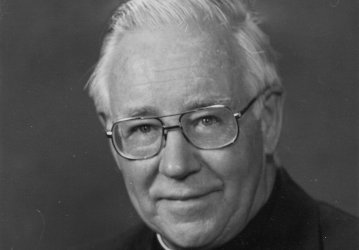 Following the lead of Gregory A. Pesely ('77), Kelly Geier ('76) has offered some of his own memories of late tutor Rev. Thomas A. McGovern, S.J. Mr. Geier, a senior software engineer at Welch Allyn in San Diego, writes:
"I had the privilege on many occasions to play tennis with Dr. McArthur and Fr. McGovern. Fr. McGovern, when on the court, was a serious competitor.
"During meals at the TAC cafeteria, Fr. McGovern frequently joked that no one had eaten more 'TAC food' than he had. But, he said, 'I feel fine,' and he laughed.

"As a tutor, regardless of the subject matter, his enthusiasm was infectious to all of us.

"On a number of occasions, Fr. McGovern heard my confession. Despite my disappointment in myself, he was always kind, encouraging, and wise in his advice.

"When he delivered his homilies, he had a gift for inflaming the hearts of his listeners with the same love for God that he had."
A collection of those inspiring homilies is now available for all to read and treasure. Copies of The Selected Sermons of Rev. Thomas A. McGovern, S.J., are available via the College's online form.
As Mr. Geier notes, "We are truly blessed that Fr. McGovern was a part of the College."
Blog Categories
NEWS FROM THE COLLEGE
CALENDAR