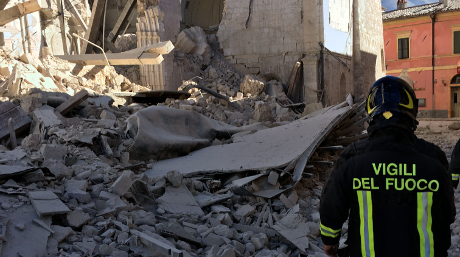 In August the monks of the Benedictine community at Monastero San Benedetto — of which three Thomas Aquinas College alumni are members — saw their monastery and their city badly damaged by the 6.2-magnitude earthquake that struck central Italy. This past Saturday they experienced yet more disaster as a 6.6-magnitude tremblor rocked the monastery and the region. The 14th century St. Benedict Cathedral, which the brothers serve and which is constructed over the 5th century ruins of the home of Saints Benedict and Scholastica, has been destroyed. Indeed, every church in the city of Norcia is now in ruins. By God's grace, however, there were no casualties.
"We watch and pray all together on the mountainside for Norcia and for the world," writes Fr. Benedict on the community's blog. "The priests go into town to visit the sick and the homeless. We are grateful for your prayers, as ever."
Please continue to keep Norcia and its monks in your prayers!