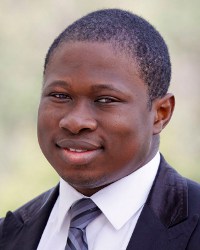 Nnadozie Onyekuru ('17)A member of last year's graduating class who is now  a graduate student at the University of Notre Dame's Keough School of Global Affairs, Nnadozie Onyekuru ('17) has penned a brief essay about recent developments in his homeland. The post appears on Arc of the Universe, a blog edited by Notre Dame Professor of Political Science Daniel Philpott, and it is titled, Bending the Arc in Nigeria. Writes Mr. Onyekuru:
The recent posthumous conferment of Nigeria's highest honors on Moshood Abiola and Gani Fawehinmi is a cheerful break for followers of events in Africa's most populous country.  ….
Such unequivocal appreciation by the nation's political class speaks a thousand words as does the jubilation surrounding the events of the past week. President Buhari's decision to honor these late countrymen is a nod to the part of the Nigerian anthem that speaks of our heroes not laboring in vain …
A citizen of Nigeria, Mr. Onyekuru has an abiding interest in international relations, particularly the role of the Church and Church teaching in global affairs. While at Thomas Aquinas College, he and some friends launched Cor Unum, an annual event that celebrates both the Universal Church and the College's international reach.
"As I prepare to conclude my studies," he wrote shortly before graduating from Thomas Aquinas College last year, "I hope to be a leaven in society as Holy Mother Church dreams for her children."