Posted: December 20, 2016
"A Stranger in a Land Far Away"
Dear Daddy and Mummy,
Growing up in our home in Nigeria, I witnessed your generosity to strangers. When you admonished me to welcome the stranger, little did we know that I would be a stranger someday in a land far away. As you know, I have been welcomed here with grace and love.
How time flies, as they say! I still remember the moment I told you of my plans to study the great books in the light of the Catholic faith. It seemed like one of those mind-boggling ideas I was known to bring up every now and then. I told you I had been thinking about it for four years. I was excited. Although strange authors and unfamiliar places were swimming out of my mouth, you did not dismiss my intention.
Of course, you did have some reservations. Mummy, you wondered in your heart what it all meant, but still gave me your blessing. Daddy, you asked how we could ever afford it. When I told you that if you paid for my SAT, God would do the rest, you said you wished you had my faith. The night I had my admissions interview, you delayed the family Rosary so I could take the phone call.
Now that I am here, it is a pleasant burden to speak with you over time zones. You are always eager to hear of the things I have learned. In Sophomore Year, we had great conversations about St. Augustine and our role in the world. In Junior Year, you laughed a lot when I shared some of Aristotle's observations in the Ethics and Politics.
Daddy, you ask me to pray for your special intentions since Thomas Aquinas College is "close to heaven." Once you said to me that it would take a while for some people to see the value of my studies, but you already see it. You have always believed that I am one of God's works in progress.
And Mummy, you pray to St. Thomas every day for my studies. You tell me you are not angry with me for leaving home for these years, and sometimes, you are more passionate about the College than I am, even though you have never been here.
When I see parents accompanying prospective students to the College, I remember my trips with Daddy to the boarding schools we chose while I was growing up. I also remember how Mummy accompanied me to begin my previous baccalaureate and asked to see the Catholic chapel at the university. Your sacrifices for your children were not without disapproval from some peers. Some wanted you to let me "grow up." Now that you have let me be, your example remains a refuge in my times of doubt.
My time here has been fruitful in many ways. As I prepare to conclude my studies, I hope to be a leaven in society as Holy Mother Church dreams for her children. I admire your courage at this crossroad. Although there are many reasons for you to be concerned about the future, you keep encouraging me to make my decisions in peace and freedom. You trust in God's will for me. You believe that He who began the good work will bring it to completion (Phil1:6).
You told me that your faith would never be the same again when I was leaving for Thomas Aquinas College. I am grateful for your support, and I know that our faith will grow again.
With serenity,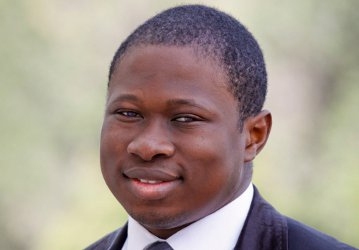 "With an academic program as rigorous as Thomas Aquinas College's, and with a long line of successful alumni, Thomas Aquinas College is essential to the health of our Church in the United States and beyond."
– The Most Rev. Thomas Daly
Bishop of Spokane
CALENDAR
NEWS FROM THE COLLEGE