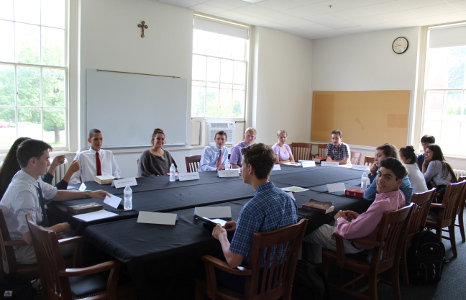 Having discussed the pre-Socratic philosophers' notions of nature on Tuesday, the Summer Program students turned their attention this morning to the Biblical account of Creation in the first 10 chapters of Genesis. They compared the two different Creation narratives, contemplated the perennial battle between good and evil, and asked how Adam and Eve's free will could coexist with God's foreknowledge of the Fall.
At the mid-day Mass, Chaplain Rev. Greg Markey began his homily with a quote from the suggested patron of the boys' residence hall, St. John Bosco: "Only God knows the good that can come about by reading one good Catholic book." Father then related that quote to the day's saint, Ignatius of Loyola, whose own formation and life was heavily influenced by reading the lives of the saints. St. Ignatius, Father continued, was led to do great works by reading great books — and so, too, should the students on the Summer Program, who are getting a taste of the Great Books of Western civilization, readings which, when pursued under the light of faith, can prepare them, too, for lives of greatness.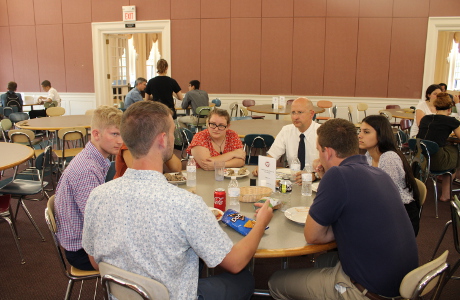 The day's lunch consisted of burgers and more conversation of Genesis, with students debating such questions as, "How do we know that what God created is actually good?" One answer was that, since God has the knowledge of good and evil, He knows whereof He speaks when he pronounces Creation "good." Another was that Genesis' depiction of nature points to a purpose and order in all things, which, if they function in accordance with that purpose and order, make them good.
There was still more discussion of Genesis in the afternoon class, which focused on chapters 11 to 25. This time students considered Abraham and Isaac, focusing on such questions as, "What is meant by the various blessings given to Abram?" "What does it mean to bless God?" "Was Abraham good, so God chose him to be father of faith, or was he good because God chose him?" "Can you have faith and still question God or be anxious?" Discussions also made reference to Plato's treatment of filial piety in the Euthyphro, giving the students a sense of how the College's curriculum is fully integrated. They will get an even greater appreciation of that integration tomorrow, when they discuss Kierkegaard's various presentations of the Sacrifice of Isaac in Fear and Trembling.