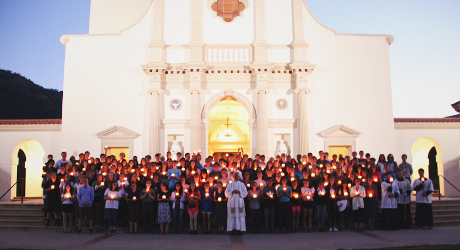 After Friday's classes students enjoyed their afternoon recreation time, followed by dinner and then another dance class. Prefect Dan Selmeczy has already taught several swing steps and he has little doubt that this group will be ready for the end-of-the-program dance … only one week away!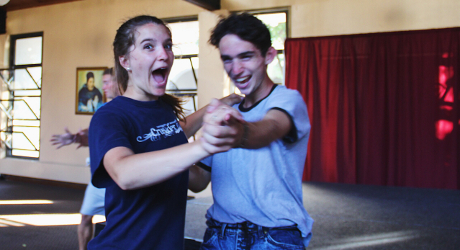 Then came the much-anticipated "Shakespeare Skits," which featured monologues and dramatic readings of scenes from various works of the Bard of Avon, directed by Dan and Zoe Appleby. The entire group came out to watch the performances, which took place in front of St. Augustine Hall. Highlights included a comedic interpretation of Rome and Juliet, Juliet's soliloquy before taking the sleeping potion (performed by Sophia from Phoenix, Arizona, who received a standing ovation!), and some male prefects' boy band-flavored singing of "Sigh No More" from Much Ado About Nothing.
Students next prayed the Stations of the Cross on the College's walkable Via Dolorosa. Then, as the sun set and the sky grew dark, they walked across the lower campus to the fairway for ice-cream sandwiches and songs around a "campfire." Alas, there was no actual fire this year, due to temporary restrictions owing to recent wildfires in the Los Padres National Forest, but there was still the same campfire spirit: Students played guitars, and the words of various campfire favorites were projected onto a large screen.
Then it was time to return to the residence halls and get a quick night's rest before rising early for this morning's hike. Photos to come sometime this afternoon!