Below is part two of our introductions to the 2020 Summer Program prefects for Thomas Aquinas College, New England!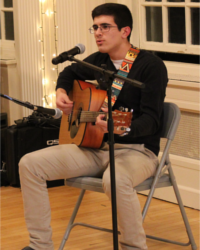 Jean Guerreiro ('22)Jean Guerreiro ('22), who hails from Brazil, is an expert at taking risks. Upon moving over 5,000 miles to begin his studies at Thomas Aquinas College, New England, Jean commented, "I'm just taking a risk, as I did when I left my country, my family, my friends, and came here. Every life worth living requires taking some risk." Praise God, that risk paid off! Now, with two Summer Programs (one as an attendee and one as a prefect) and two years of education at the College under his belt, Jean heartily recommends that this year's attendees similarly take a risk and fully commit to their time at the Summer Program. "If you trust the order of the program, and live intensely every second of your time here," he says, "you will see that the spiritual life, classes, and outdoor activities work together so neatly that it will be hard for these not to be the best two weeks of your life."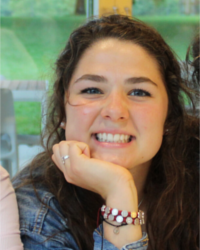 Meg Murphy ('22)After working as a prefect on last year's first New England Summer Program, Meg Murphy ('22) is eager to keep the tradition going for this second year in a row. "Working last year's program at the New England Campus was truly a privilege!, she says. "I really enjoyed hanging out with the students and getting to know them, as well as discussing some of the material with them outside of class." After spending her time in quarantine running, hiking, drawing, and gardening from her home in Cheshire, Connecticut, Meg is ready to start making memories with this year's Summer Program students!
Joseph Guinee ('21)A rising senior on the California campus, Joseph Guinee ('21) from North Andover, Massachusetts, can't wait to see the High School Summer Program come to his home state for the second time. "If I was to give one piece of advice to students, it would be to get as much sleep as you can," Joe comments. "That way, you will have the energy to do all the awesome activities we have planned for you guys." He must be getting plenty of sleep himself, because fellow prefect Meg Murphy shares that Joe "has been a complete blast to work with, and the enthusiasm he shows for the curriculum is so encouraging." She also shares that Joe is great at cooking — always a plus!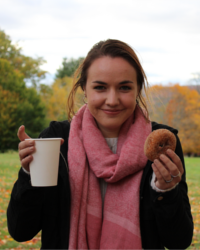 Mary O'Reilly ('22)"This will be my first time working the Summer Program as a prefect and I'm really looking forward to it!" shares Mary O'Reilly ('22). Although she comes from Santa Paula, California, (the location of the California campus), Mary chose to study at the College's New England campus, and writes that she is very "excited to help introduce the high school students to the campus and community that I am so fond of." Fellow prefect Simone Kelly reports that Mary is a huge lover of both coffee and tennis; and is always down to pick up a racquet and play a game.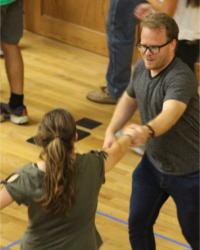 Daniel Selmeczy ('08)Best known for turning complete newbies into amazing swing dancers (or as close as they can get in just two weeks), Daniel Selmeczy ('08) is always a yearly favorite for the students on the Summer Program — both on and off the dance floor. Now a teacher at St. Monica Academy in Pasadena, California, Dan marvels at how he originally came to attend Thomas Aquinas College. "I was an atheist and was accepted to study marine biology at UC Santa Barbara when I first visited TAC," he recalls. "During that visit, I fell in love with the program and was accepted to attend as a freshman that same year. Within a year I had converted to Catholicism, which to this day has been the single greatest blessing of my entire life."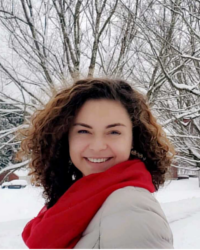 Kathleen Pfeiffer ('23)"Kathleen Pfeiffer ('23) is honestly the person we need to bring enthusiasm to this program," writes fellow prefect John Metilly. "She is very cheerful and enthusiastic; you will always find her smiling." After spending her quarantine at home in Waterford, Wisconsin, Kathleen is excited to leave zoom classes and indoor activities behind in place of this year's Summer Program. Like our attendees, Kate shares that "I have not done the summer program before, either as a student or as an attendee, but it always looked like so much fun and I really wanted to attend!" This year, her wish is coming true, and she can't wait to meet the 2020 Summer Program students come July 26!
Tanner Sheffield ('23)Tanner Sheffield ('23) — a sophomore at Thomas Aquinas College, New England — is also experiencing the Great Books Summer Program for the first time this year! Hailing from Yuba City, California, he has spent most of his summer volunteering at his local parish, reading, and playing the guitar. (Fellow prefect Irene Collins tells us he's an amazing guitarist!) He advises programmers to bring this kind of balance into their two weeks at Thomas Aquinas College. "Come with an open mind," Tanner recommends. "Study hard and play hard." He looks forward to making new friends and new memories on his beloved New England campus.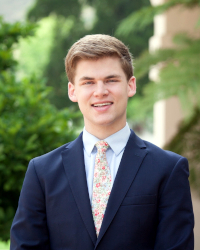 Kevin Murphy ('22)This is the second Summer Program for Kevin Murphy ('22) of Des Peres, Missouri, is serving as a prefect. An avid rock climber, Kevin has spent as much time as possible outdoors this summer, and he is especially looking forward to the kayaking trip on the Connecticut River! Beyond the outdoor activities, though, Kevin wants to remind programmers to take their studies seriously during their two weeks on campus. "More than anything else, Thomas Aquinas College is distinguished by its curriculum and the way we pursue it," he says. "Take advantage of the chance to test it out and discover if you enjoy it!"