The First Sophomores of Thomas Aquinas College,
New England
Posted: June 4, 2019
Meet some of the 34 California Freshmen
who plan to Transfer to New England in the Fall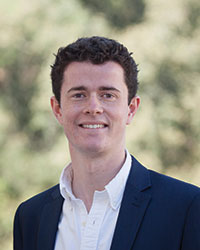 Nathanael Cassidy
Norfolk, England
"I see transferring to the new campus and being part of its first graduating class as a God-given opportunity to hand on something that we have been given and are blessed to have," says Nathanael Cassidy. "So I decided to take the opportunity, because it seemed like it was the best thing to do, even if it wasn't the easiest decision."
Having moved many times before — he had lived with his family in Austria, Northern Ireland, and England before coming to California last fall — Nathanael is unfazed by the prospect of one more relocation. "I have a couple of good friends whom I will be leaving behind, and that will be hard," he admits. "But having friends who are of the same faith helps, as you can always be with them in the Eucharist, sharing the Body of Christ; that is a great comfort."
As the time to say goodbye draws near, Nathanael remains steadfast. "I haven't wavered," he says. "Ever since I said 'yes,' I have dedicated myself to this, because I firmly believe that it is God's will. Even though it will be hard to tear ourselves from our classmates here, this a great opportunity to grow in maturity and virtue."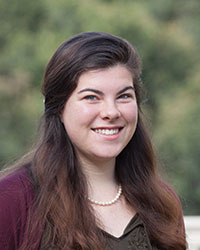 Clotilde Cecchi
Cazenovia, New York
The daughter of two alumni, Clotilde Cecchi always figured she would come to Thomas Aquinas College. "But as I grew older, I realized that I should not choose a college just because my parents went there," she says. "I came to learn that what make this school special are the Discussion Method and the Great Books, and that is ultimately why I chose to come."
Still, there was a sense of reluctance. Living in Cazenovia, New York, the thought of leaving her parents and four younger siblings 3,000 miles behind was daunting. "We would always say, 'Wouldn't it be nice if a TAC East would open up?'" she remarks. "But I never thought it would happen in my lifetime. I was so very glad when it actually did!"
As Clotilde neared the end of high school, the College acquired the Massachusetts campus but was still obtaining state approval to begin operations there. So, after she applied and was accepted, she delayed her admission for a year, then enrolled on the California campus with plans to transfer after freshman year. She now will reduce the distance from college to home by 95 percent — and her younger brother, a high school junior, hopes to join her on the New England campus in 2020.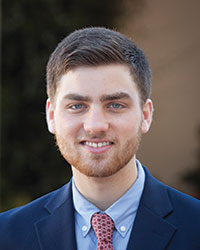 Sean Callaghan
Lake Zurich, Illinois
One evening last fall, encouraged by a friend, Sean Callaghan attended a meeting that College officials were offering for freshmen who were interested in transferring to the New England campus. "It was a rough sketch of what life would be like there and what the campus is like," he remembers. "It gave me a more in-depth idea of what to expect: the small community, closeness with our tutors and their families, and growing the culture of the new school."
He thought and prayed about all that he had learned. "For the next four to five days, I had a hard time trying to stay focused on academics," he says, because his mind kept wandering to Northfield, Massachusetts. After letting the idea sit for a few days, he went to the dean's office and signed the transfer papers.
"I think going to New England will stretch me in the sense that not everything is set in stone," says Sean. "We are going to have a big responsibility: How can we lay the foundation for the freshmen, and for the future classes? For me, personally, I think that the experience will help me to become a better man over these next three years."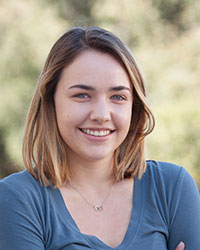 Mary O'Reilly
Santa Paula, California
When she first began to consider transferring to Thomas Aquinas College, New England, Mary O'Reilly sought the advice of her freshman Natural Science tutor, Dr. Thomas J. Kaiser ('75), the associate dean for the East Coast campus and a member of the College's first graduating class. "Dr. Kaiser said that the school needs energetic people to get out there, go out into the town, tell people about what we are all about, and start the traditions that will sustain us for generations," she recalls. "That was eye-opening for me."
The reasons she had for remaining in California — being close to her family's home, just a few miles from campus, and staying with friends — "were all for me," she realized. Heading east, on the other hand, "would be for the school," to which, after less than a year, she already considers herself profoundly indebted. "I decided to go because the school needs people out there."
Of course Mary can cite some personal reasons for going, too, including the seasons, the campus' many tennis courts, and the honor of being a member of the first graduating class. All of these, however, are secondary. "I'm looking forward to snow and pine trees and skiing," she says. "Mostly, though, I'm looking forward to making the campus a success."
Jean Guerreiro
Santa Catarina, Brazil
For Jean Guerreiro, coming to Thomas Aquinas College meant traveling more than 5,000 miles and leaving behind all he knew in his homeland of Brazil. Compared to that, what's a mere cross-country trek with some friends?
Jean first learned of the College three years before he enrolled, but assumed he could never attend because he was not proficient in English. Upon learning the language, however, he came north for the High School Summer Program. Less than a week after the program, he submitted his application and completed his financial aid paperwork. A few weeks later, he enrolled as a member of the Class of 2022.
"It has been fantastic," he says of his freshman year. "It has surpassed all my expectations. Every day I am amazed at how wonderful it is to be living here and studying here. I am so happy I made this choice. It is the best thing I have ever done."
As for New England, "It might not be as good there as it is here, but it also might be better," says Jean. "I'm just taking a risk, as I did when I left my country, my family, my friends, and came here. Every life worth living requires taking some risk."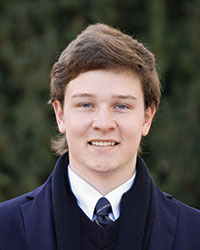 Jeff Healey
Napa, California
Jeff Healey first began thinking about New England when he attended the College's High School Summer Program. "There was a presentation about the new campus, with lots of gorgeous photos of the buildings and facilities," he recalls. "The idea of being the first class seemed like an awesome opportunity."
For Jeff, it was a best-of-both-worlds proposition. "To get a school with an established curriculum, one that has already proven to be successful and trustworthy, while at the same time starting a new campus — that's an opportunity that doesn't come along very often," he says. "I decided I had to be part of it."
Being a resident of Northern California, going to school in Northfield, Massachusetts, requires traveling much farther than he does now, but Jeff regards the tradeoff as worthwhile. "I've lived in California for 19 years and I've only been out of state a few weeks total," he says. "Going out to the East Coast for the next few years will allow me to experience a different part of the country. I look forward to that."
He also hopes to continue his student-scholarship job — part-time librarian — on the New England campus. "We're prepared to do all we can to get that library running and up to speed."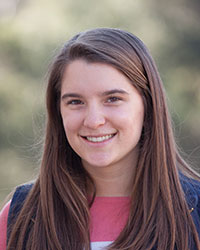 Sophie Steigerwald
Elm Grove, Wisconsin
Like many of her fellow pioneers, Sophie Steigerwald cites familiar reasons for her decision to venture eastward — affection for the faculty members, changing seasons, shaping the culture of a new campus. Paramount in her consideration, however, were beauty and community.
"I guess I really like how beautiful it is out there; it is such a beautiful campus," she says, noting the 100-year-old buildings settled among the rolling green hills, evincing an old-world sensibility.
Amid this bucolic landscape abides a deep-rooted community, one that Sophie is eager to come to know. "The local community seems to be very warm and welcoming. It's a small community, and I have heard that they are excited to have us, to have students on campus once again, because the property had been vacant for so many years."
Then there is gratitude. "We recently had a dinner for all the faculty and students who are going to Northfield, and President McLean spoke about how many years the College has been working on this project — getting the campus, getting it approved, getting it ready — and how much work all have put into it," she says. "They have set up this opportunity for us, and I'm grateful for that. It's an honor to be able to go."
"The education teaches you how to think in a structured, ordered fashion. In modern medicine … that is very helpful."
– Major Paul W. White ('95)
Vascular Surgeon, U.S. Army Medical Corps
"The students that have had an opportunity to be part of the life of the College have been enriched by their experience in an environment conducive to achievement. Now in all walks of life, graduates of Thomas Aquinas College are contributing, by following a wide variety of pursuits, to the betterment of society."
– Renato Raffaele Cardinal Martino
President, Pontifical Council
for Justice and Peace
CALENDAR
NEWS FROM THE COLLEGE