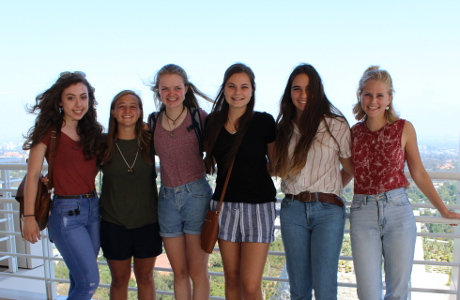 When we left off yesterday, the 2018 High School Summer Program students had just boarded three buses and three vans for a trip to Los Angeles. Traffic was heavy at times, as it often is in L.A., but the ride passed quickly. Students made good use of the time by telling jokes, singing, and doing their reading for today's classes.
The first stop was the J. Paul Getty Museum in the Santa Monica Mountains, with its panoramic views of the Pacific Ocean and the vast expanse of metropolitan Los Angeles. Students wandered the grounds, gazing upon world-renowned paintings, illuminated manuscripts, Greek and Roman sculptures, photographs, and other works of art, including some by Monet, Van Gogh, Rembrandt, and Bernini. They searched for the hallmarks of excellent art that Dr. Nieto had identified in his Tuesday talk, and they delighed in two visiting exhbitions: Pathways to Paradise: Medieval India and Europe and Beyond the Nile: Egypt and the Classical World.
At about 5:00 p.m. the group re-boarded the buses for a trip to the Hollywood Bowl, where students feasted on some 60 pizzas at the picnic grounds before settling in for the performance. The night's concert was the Los Angeles Philharmonic performing Mozart's "Overture to The Marriage of Figaro" and Symphony No. 35 in D major, K. 385 ("Haffner"), as well as Tchaikovsky's "Violin Concerto in D major, Op. 35" and "Serenade for Strings in C major, Op. 48." Students enjoyed the spirited performance, relaxing under the stars on a hot summer night in the Hollywood Hills.
The concert ended fairly late, about 10:30 or so. On the bus ride home, one of the students required medical assistance. Fortunately the well-trained prefects were able to tend to her until paramedics arrived, and she is now feeling so much better that she expects to return to the program this evening! The rest of the students eventually made it back to campus and off to bed for some much-needed rest before Friday's classes on Pascal's "wager" and Fabre's observations of order in nature, which correspond to St. Thomas Aquinas' fifth proof for the existence of God.