During Wednesday afternoon's recreation period, students played sports …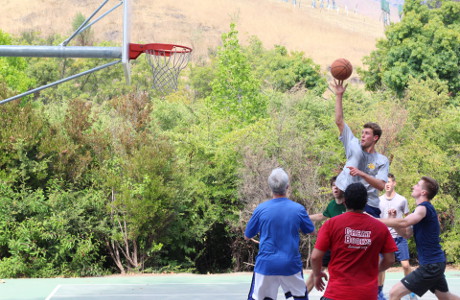 … visited with prefects …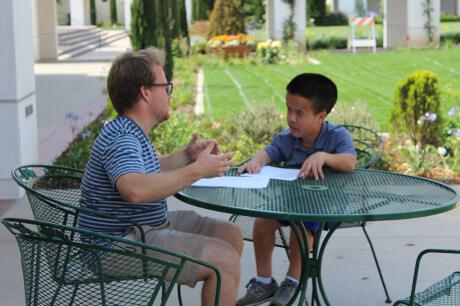 … and rehearsed for Friday's Shakespeare Revue: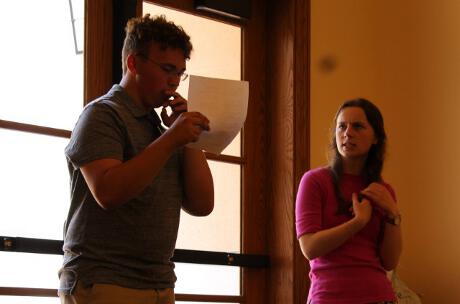 But by 3:45, most arrived in St. Cecilia Hall …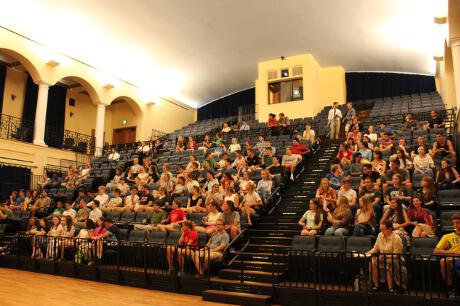 … for tutor Dr. John Nieto's annual Summer Program lecture, "On Art and Beauty."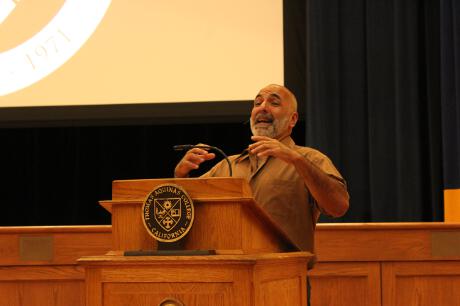 Delivering his talk for the first time in the newly completed St. Cecilia Hall, Dr. Nieto supplemented his remarks with a PowerPoint slideshow depicting many famous sculptures and paintings, several of which are at the Getty Museum in Los Angeles, which the group will visit this afternoon. The talk was such a hit that the question-and-answer session ran well into dinner. 
Then came the nightly Study Hall, where students did their Kierkegaard reading in preparation for Thursday morning's class …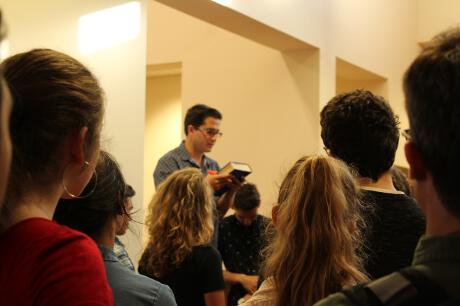 Roll call
… followed by the nightly Rosary in Our Lady of the Most Holy Trinity Chapel: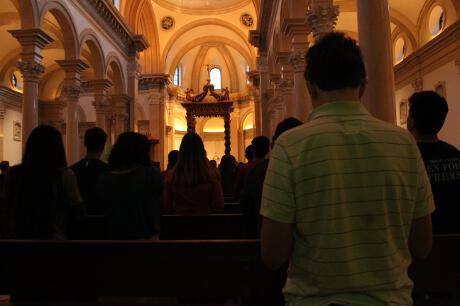 Following the Rosary, Fr. Sebastian gave a talk about the joy that Christ experiences at our repentance, especially through the Sacrament of Penance. Immediately afterward, he exposed the Blessed Sacrament for a "Holy Half-Hour," during which he and three other chaplains heard confessions. "The students were really moved," one prefect reports. "Even after the half hour was over, there were lines four, five students deep at each confessional!"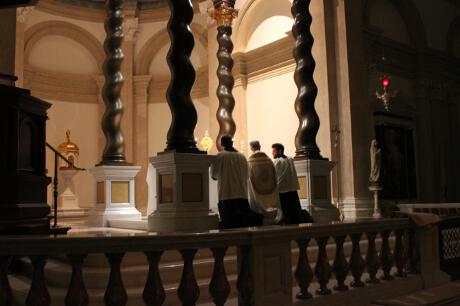 Finally came the night's most-anticipated event, the first dance class, led by prefect Dan Selmeczy."The students started out pretty nervous," one prefect observed, "but seemed to relax as the class went on."
Back in the residence halls, there was pita and hummus, then cosecration and lights out. Thursday promises to be a big day, with Kierkegaard at the morning class, then a trip to the Getty Center and a Mozart & Tchaikovsky concert at the Hollywood Bowl!