Following Monday's classes and an abbreviated recreation period, students took to the campus coffee shop, where Dr. John Nieto, a member of the College's teaching faculty, presented his annual talk, "Art and Beauty." Then came dinner, followed by an Admissions meeting, at which Admissions Director Jon Daly took questions from students about the College and its application process.
The highlight of the Q&A session, however, came when Admissions Counselor Patrick Cross answered questions about the New England campus that the College hopes to have up and running — contingent upon the approval of the Massachusetts Board of Higher Education — in the fall of 2018. Mr. Cross, who will be the Admissions Office's point man for its New England efforts, showed photos of the Massachusetts property, drawing excited "oohs" and "ahs" from the assembled students, who marveled at its beauty and facilities.
During the ensuing study hall, students met with prefects and fellow members of their sections to prepare for Tuesday morning's class, at which they would be called upon to demonstrate Euclidean propositions on the chalkboard. The prefects report that the students managed very well and seemed quite confident about their prospects!
Then, after nightly Rosary, the group gathered on the basketball courts for two highly anticipated match-ups of students vs. prefects. In the women's game, the prefects won handily, outscoring the students 27-11. The prefects got their comeuppance, though, in the men's game, in which the students — despite blowing an early lead — ultimately triumphed, 41-35.
Back in the residence halls after curfew, students recapped the basketball game and feasted on soft bread and cheese. Then it was time for consecration and lights out.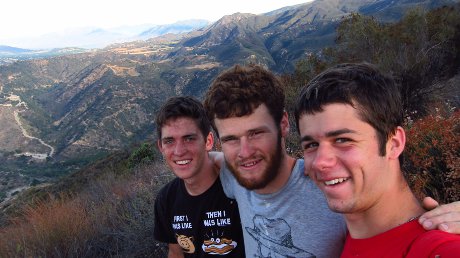 Bright and early this morning, three hearty souls took a sunrise hike. A student by the name of Greg, who has wanted to climb Santa Paula Ridge since he came to the campus four years ago for his sister's graduation, persuaded prefects Thomas Cain and Isaac Cross to hike the mountain with him. The three brought back the above photo, as well as this one below: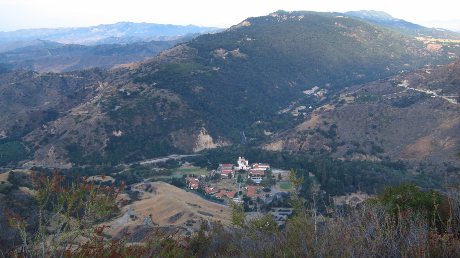 At this morning's class students proved that their confidence about Euclidean geometry was well-founded. Called, for the first time, to demonstrate propositions on the blackboard, they excelled! A student named Daniel summed up the experience of many when he declared, "This is the first time in my life that I've actually liked math!"
There is no afternoon class today. Instead, after lunch, the students filed into buses for a trip to Los Angeles, where they will first visit the Getty Center and then attend a concert — "Debussy and Tchaikovsky" — at the world-famous Hollywood Bowl. Photos from the excursion will be available here tomorrow morning.