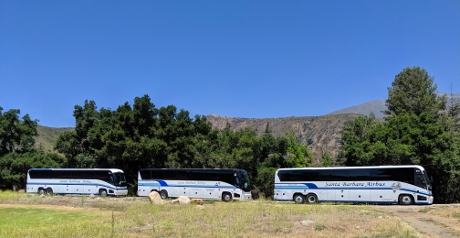 Thursday has been a whirlwind for the students on the 2019 High School Summer Program — and it's only just begun! In anticipation of today's excitement, the group had a (relatively) quiet evening last night (no dodgeball or dance party), and even slept in (relatively) late this morning (no 6:00 a.m. basketball game).
After breakfast students explored the nature of faith in their first class, where they discussed Christian existentialist Søren Kierkegaard's  Fear and Trembling. The work offers several scenarios of the story of Abraham in an attempt to determine whether or not his faith seems rational. Conversations were spirited, and the students were intrigued by the question of what faith is and what it entails, especially as modeled by our father in faith. Among the questions considered were, "Where does reason end and faith begin?"
Then came Mass, followed by lunch, after which the group boarded the three coach buses pictured above for Los Angeles. As of this writing, they are taking in the art and panoramic views at the Getty Center. From there they will find their way to the city's famed Hollywood Bowl for a concert which will feature both something old and something (relatively) new: Tchaikovsky's Piano Concerto No. 1 and music of Hollywood's Golden Age.
Tomorrow morning's blog post will include news and photos from the trip, but here's a sneak preview: