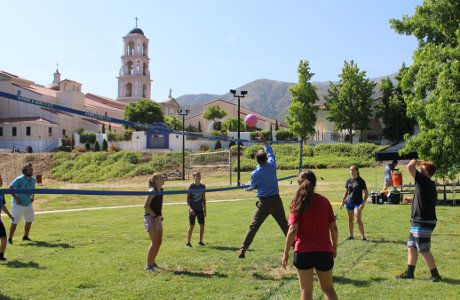 That man you see delivering  the massive spike in the above photo is none other than Admissions Director Jon Daly, who mixed it up with students on the volleyball court Wednesday afternoon (in slacks, shirt & tie, and dress shoes!). Sports, as usual, was a big part of the day's recreation period, while others opted for a swim in the campus ponds. The period was abbreviated, though, to make space for some other worthwhile events, including Dr. John Nieto's annual "Art and Beauty" talk and auditions for Friday night's dramatic reading of The Importance of Being Earnest.
After a dinner of chicken tenders, mashed potatoes, and assorted vegetables, students attended study hall in the library, where they read Søren Kierkegaard's four variations of the Sacrifice of Isaac for this morning's class. "You know, even if I don't end up coming to college here," one student reflected, "speaking in class has helped me to become a lot more confident. I can approach people. I can already see that just being here for the Summer Program will help me out in my senior year."
For the first time, students led the nightly recitation of the Rosary in Our Lady of the Most Holy Chapel, after which Fr. Sebastian offered a mediation on the Prodigal Son. He and two of the College's chaplains then heard confessions while students prayed before the Blessed Sacrament in a "Holy Half Hour" of Eucharistic Adoration.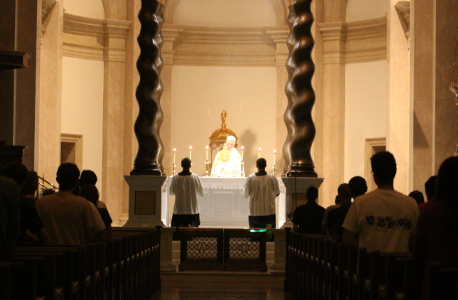 Then came the night's main event: the first dance class. In all candor, the students were, at first, not at all excited about the prospect. As one prefect summarized the prevalent attitude: "Is this mandatory? Kill me now." But once prefects Dan Selmeczy and Helen Blain began teaching the swing and some other dance steps, the students' attitudes quickly changed. "Everyone had so much fun," one prefect reports. "Most of the students stayed long after the class, skipping Coffee Shop and dancing all the way up until curfew!"
Back in the residence halls, students feasted on freshly baked pretzels and otherwise enjoyed a quiet evening: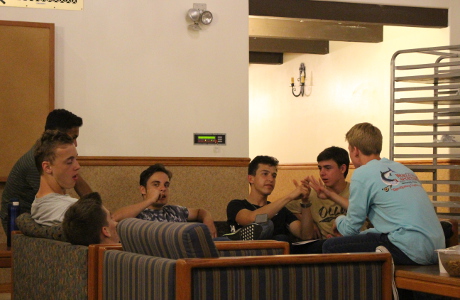 Although in the girls' hall, there was even an impromptu "hootenanny," as one student dubbed it, of spontaneous song.
Then it was time for consecration and lights out in preparation for a busy day Thursday — including the much-anticipated trip to the Getty Center and the Hollywood Bowl!