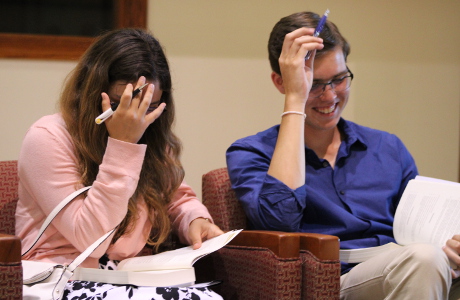 Following Monday's classes most students spent the afternoon recreation period on the College basketball courts, preparing for that night's basketball tournament:
Then came dinner, followed by an informational Admissions meeting in St. Cecilia Hall, where Director Jon Daly took questions from students about Thomas Aquinas College and its application process. There was particular interest in the College's soon-to-be-opened New England campus — which still has a few spots open in its High School Summer Program, starting next week. So if you are a rising high school senior reading this post, wishing you had come to the Summer Program, it's not too late!
Next up was a special study hall, beginning with a presentation from prefect Dan Selmeczy. Dan offered advice on how to demonstrate Euclidean propositions, which students would do at Tuesday morning's class — a prospect that had some feeling somewhat intimidated. "Ask yourself, 'What is the purpose of this part of the proposition?'" Dan advised. "That's a good question to drive your understanding."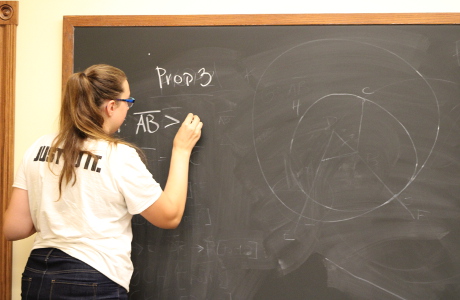 When Dan was finished with the presentation, students headed off for various classrooms around campus, where prefects gave them more personalized preparation on the chalkboards. One student was overheard asking his peers, "Are we doing this to learn logical argumentation or something?" — prompting some knowing smiles from the prefects.
The final event of the evening was a set of basketball games pitting the prefects against the students. Both the women's and the men's games were energetic, hard-fought nail-biters. In the women's game — hardly the stomping that some had feared — the prefects took the lead early and held on to it for most of the game, until the students grabbed the lead late with a late 10-0 run. But the prefects regained their composure and eked out a narrow win in the end.
The men's game also had its shares of runs and lead changes. After jumping to an 8-0 lead to start the game, the students saw the prefects regain control and take the lead by halftime. The last few minutes of the game — during which the students wowed spectators with their three-point shooting — was a constant back-and-forth struggle. With less than 10 seconds to go, Thomas C. of Minnesota took the ball coast-to-coast for what looked like the game-winning layup, putting the students ahead by 1 point with just 4 seconds to go. But against all odds, the prefects inbounded the ball to half-court, whereupon George Stypa dished it off to Fr. Sebastian, standing just inside the three-point arc, and the Padre nailed an off-balance, fade-away, buzzer-beating jumper — with a defender in his face — for the win.
Although disappointed, the students took the loss quite graciously, congratulating Father for his heroics. They then returned to the residence halls where, after consecration, many were seen practicing their props well into the night — and early this morning, too!