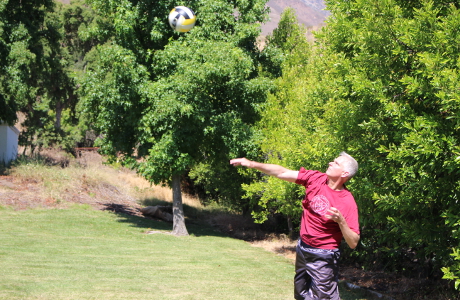 This blog last left off at the close of Friday's classes, after which came the afternoon recreation period. Once again, Summer Program Chaplain Rev. Sebastian Walshe, O.Praem. ('94) — pictured, above, delivering a mean serve — was a formidable presence. He will no doubt have students well-prepared for today's tournament!
It was an abbreviated recreation period, however, so that students could then go to the Program's second dance class. Prefect Dan Selmeczy taught some more swing steps and introduced the group to the rhumba. He has little doubt that students will be ready for the end-of-the-program dance … only one week away!
After dinner came the much-anticipated "Arts Night," which featured a dramatic reading of The Importance of Being Earnest as well performances of several scenes from the works of William Shakespeare. The entire group came out to watch the production, which took place in the St. Cecilia auditorium.
Next students made a candlelit Rosary procession around the academic quadrangle, ending at the statue of Our Lady in Founders Plaza: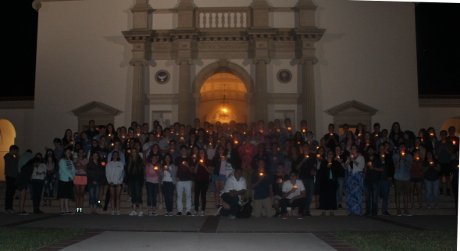 Then, as the sun set and the sky grew dark, they came to the Guadalupe Fountain for ice-cream sandwiches and songs around a "campfire." Alas, there was no actual fire this year, due to temporary restrictions owing to the campus' proximity to the Los Padres National Forest. But there was still the same campfire spirit: Students, prefects, and even Summer Program Director Brian Dragoo played guitars, and the words of various campfire favorites were projected onto a large screen.
Then it was time to return to the residence halls and get a quick night's rest before rising early for this morning's hike and Mass. Photos to come later today!