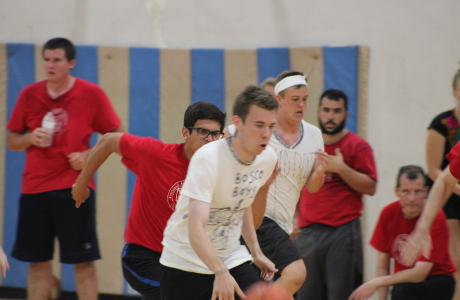 Lest parents have any worries about whether their children are eating well on the 2019 New England High School Summer  Program, none other than chaplain Rev. Greg Markey has stepped forward to vouch for the quality of the cuisine. "The ribs came right off the bone," he says of Monday night's entrée, which was accompanied by sides of potatoes and veggies. No doubt, the students needed a hearty meal after the afternoon's jam-packed recreation period — to say nothing of the impending basketball tournament.
But first came study hall, beginning with a presentation from prefect Dan Selmeczy. Dan offered advice on how to demonstrate Euclidean propositions, which students would do at Tuesday morning's class — a prospect that had some feeling somewhat intimidated. "Ask yourself, 'What is the purpose of this part of the proposition?'" Dan advised. "That's a good question to drive your understanding" — and understanding, he stressed, should be the goal, not memorization. When Dan was finished, students headed off for various classrooms around campus, where prefects gave them more personalized preparation on the chalkboards.
Only then came the Prefects vs. Students basketball tournament, which began with the women's game. The prefects jumped out to an early lead, but the students — who called themselves the Goliath Girls — made things close for a while before ultimately getting bested by their seniors:
The men's game, alas, was not as competitive. The red-shirted prefects simply overwhelmed "Bosco's Boiz," named for the patron whom the high school men have recommended for their residential hall. Of course, the prefects had an unfair advantage,  with two powerful ringers — Fr. Markey and Admissions Director Jon Daly — on their squad.
Both games featured two celebrity referees: Assistant Dean Tom Kaiser and a fellow member of the New England teaching faculty, Dr. Stephen Shivone. And players and spectators alike were wowed by the halftime dance performance, choreographed by prefects Maggie Dillon and Meg Murphy.
The night ended back in the residence halls, with Rosary and consecration. Come later today for a report for how the students fared with their first Euclidean demonstrations at the blackboards!