Posted: April 24, 2019

"With the possible exception of the alumni themselves, there is no one who can appreciate the good that Thomas Aquinas College accomplishes more than the parents of our students and graduates," says Robert Bagdazian, coordinator of the TAC Parents' Association. "We see how our kids grow while at the College. We see them grow in wisdom, deepen their faith lives, discern their vocations. How can we ever begin to express our appreciation for this priceless gift?" Parents looking for a way to show their gratitude — and to help pass along the gift of a Thomas Aquinas College education — will have an excellent opportunity to do so on May 1, Feast of St. Joseph the Worker and the College's second annual Parents' Day of Giving.
"To launch last year's Parents' Day of Giving, an anonymous donor made a $75,000 matching gift, which we TAC parents easily met, with hours to spare," says Mr. Bagdazian. "So this year we're raising the ante: Two anonymous donors have combined to match every gift, up to $125,000, made between now and the end of the day on May 1. We have no doubt the parents will beat this new goal, too!"
Although called the Parents' Day of Giving, the event is not limited to just TAC parents. "Grandmothers' and grandfathers' gifts will be matched as well," says Mr. Bagdazian. "Grandparents played a significant part in helping us reach our goal last year."
As did alumni. Early on during the 2018 Parents' Day of Giving, the College received numerous inquiries from alumni who asked if they could make donations in the names of their parents, both living and deceased. With the anonymous benefactor's blessing, the College then opened the door to these alumni gifts as well. "It was an inter-generational effort," says Mr. Bagdazian. "It was beautiful to see alumni honor their parents that way and to witness families united in their love for Thomas Aquinas College." Alumni who wish to contribute to this year may do so through a dedicated form for alumni gifts.
Parents can participate by completing the Day of Giving Form, below. The benefactors have generously agreed to match early-bird gifts, too, so there's no reason to wait until March 1. However, those who prefer to make their gifts on the actual Feast of St. Joseph the Worker can make use of the scheduling buttons below, which will add a May 1 reminder to one's electronic calendar of choice.
In order to be matched, all gifts must be made by the end of the day on May 1. Thank you for your generosity!
---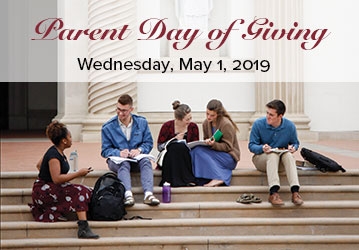 "The culture at the College, the community was very formative for me. I saw joyful people living their Catholic faith, doing it to the best of their ability, and not being ashamed of it."
– Rev. John Marie Bingham, O.P. ('00)
Parochial Vicar, Saint Dominic's Parish, Benicia, Calif
"I am happy with the mission of Thomas Aquinas College and with the results spread through various countries in the world!"
– Most Rev. Lionginas Virbalas
Metropolitan Archbishop of Kaunas, Lithuania