Posted: February 4, 2020
One is a junior; the other, a sophomore. One hails from Brazil; the other, Massachusetts. They live and go to school some 3,000 miles and three time zones apart. But on Friday, these two Thomas Aquinas College students plan, together, to take over Instagram — or at least a small corner of it.
The Cardinal Newman Society has asked Joe Guinee ('21) and Jean Guerreiro ('22) — students on the California and New England campuses, respectively — to take control of its Instagram account for a day. And Joe and Jean have gladly accepted the challenge.
"I am really excited about the takeover. It's a chance for me to show everybody my school and all of the things that make it unique and special," says Joe. "How often do you have such a large audience that you can share something with, something that's so important to you, and show them why? We students know that TAC is amazing, and this is the perfect platform to share that with other people in a real and genuine way."
The takeover is part of an ongoing series in which the Newman Society turns the reins of its Instagram account over to students from the colleges it recommends in its annual guide.  "We are excited to have students at Thomas Aquinas College take over our Instagram feed this Friday!" says Celine Santschi, the Cardinal Newman Society's communications and membership coordinator. "In all of the takeovers that we arrange with Newman Guide colleges, our hope is to show our followers why attending a faithful Catholic college is so valuable. Students can benefit greatly from the strong Catholic formation provided by Thomas Aquinas College."
The TAC takeover is well-timed. In addition to participating in their regular classes and afternoon sports, the College's students on both coasts will gather Friday evening for the Spring All-College Seminar — a campus-wide discussion of a single text, followed by student-faculty parties. "The takeover with Thomas Aquinas College," says Ms. Santschi, "will be a great opportunity for our followers to see what life is like at both the College's West Coast campus and brand-new East Coast campus."
Because Joe and Jean will be posting from different time zones, the takeover will run the full length of the day, from morning in Massachusetts to well into the evening in California. Their posts will be visible on the Newman Society Instagram account, and they will be shared on the Thomas Aquinas College account as well.
"I'm looking forward to sharing a little bit of the TAC, New England, experience, to share the gift of being in this wonderful place full of the grace of God," says Jean. "I really desire that more people can get to know this place, which I love so much."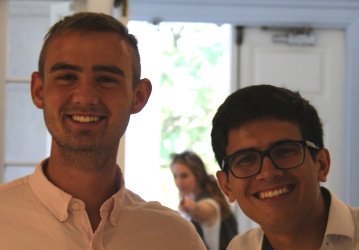 Joe Guinee ('21) and Jean Guerreiro ('22)
NEWS FROM THE COLLEGE