Posted: June 7, 2017
Note: Pete LaFave ('13), a strategic sourcing consultant at Anthem, Inc., introduced Shane O'Reilly ('95), the honored speaker at the College's West Coast Alumni Dinner, on June 3, 2017. The text below is adapted from his remarks.
As Mark mentioned, I am a proud graduate of the Class of 2013. I live here in Santa Paul with my wife and two kids, and I'm employed at Anthem Insurance, where I was hired by tonight's honoree nearly four years ago. So it is a real pleasure for me to be up here and to introduce him tonight.
Because I know he is a modest guy and probably is embarrassed by people singing his praises, I'm thrilled that we are doing just that tonight.
As some of you may know, Shane is a member of the illustrious O'Reilly clan, and followed his older brother's footsteps to Thomas Aquinas College, graduating with the Class of 1995. Shortly after graduating and working for a few years at an online start-up, Shane made his way to what was then WellPoint, which is now Anthem, the third-largest insurer in the country. Over the course of his 17 years at Anthem, he has risen through the ranks at really a break-neck speed, currently finding his way to the executive suite, serving as the staff vice president of the Anthem sourcing department. He is responsible for driving Anthem's procurement strategy. He oversees 60 employees and nearly $1 billion in spend from a management perspective.
I can honestly tell you that for someone from Shane's background, that is truly an accomplishment. As far as I'm aware, no one in the executive office, or with a role similar to Shane's, has done that without a) a business degree or b) a further master's, an MBA. So the fact that Shane has accomplished that is truly remarkable. First, it is a testament to who Shane is — his work ethic and his drive — but it is also a testament to the education that we receive here at TAC; that with a degree from here, really, you can do anything.
The reason why we want to honor Shane tonight is the way that he gives back to his alma mater, and that is that he hires its graduates. Over the course of the years that he has been in a management role, he has ensured that time and time again, Anthem has a recruiting presence on campus, and I think over the past nine years, Anthem has hired seven of our graduates, which is really commendable.
If you think about it, on paper it's not the most practical thing to do. Put yourself in his shoes for a moment: You're the staff VP of  Fortune 33 company, and when you need to hire talent, the most practical thing to do is to hire someone with previous business experience or recruit from some of the elite MBA programs in the area, such as USC and UCLA. But Shane doesn't do that. He recognizes something that graduates of TAC have. That is really, truly commendable.
It doesn't stop just with the hiring, though. Shane ensures that every graduate/alumnus of TAC that is at Anthem is looked after, has the tools that they need to succeed, and often plays the role of mentor. I can tell you this from experience that he has an open-door policy. He will call you aside and ask, "What is it that you want to accomplish here? What are your goals?" And he ensures that he has your back, and that you have whatever it takes to accomplish that. Because of that mentorship and that guidance, our alumni at Anthem, on a regular basis, are shaking hands with the CEOs of every different industry, are negotiating multi-million dollar deals, and are driving complex strategies in the healthcare industry, which is an industry that needs that badly now.
Just quickly … a funny story: I once had someone at Anthem, who after working on a project with some of our alumni — I think it was Shane, Mike Hodges, and Kayla (Kermode '12) Six — mentioned to me that they all had something in common, aside from, obviously, their skills and their drive, and their work ethic: It was the fact that all three had this degree. And he asked me, in all seriousness, if TAC was this elite MBA business program nestled in the hills of Southern California, and if so, how could he send his kids there. So that really goes to show what Shane is doing for our reputation.
In honoring him tonight, the College is really showing its debt of gratitude for all that he's done, especially not just for the students he's hired, but really for the College and the community as a whole. If you think about it, what kind of message does it send our current and prospective students when they see that our alumni consistently are hired and succeed at a company of this size? It just adds another industry in which they see they can succeed. It also sends a strong, positive message to our donors that our graduates are hire-able. And finally, on kind of a broad scale, it really helps spread the message and the reputation of the College within and outside the business world.
So, without further ado, it is a tremendous honor to welcome and thank tonight's honoree, Shane O'Reilly from the Class of 1995.
---
Receive Thomas Aquinas College
lectures and talks via podcast!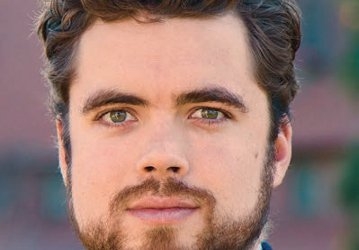 "The texts we are reading ask the fundamental questions in life, which every human person needs to be able to answer. You want to answer these questions, and you experience the beauty of wonder in discussing them."
– Suzie Jackson ('15)
Manassas, Va.
"Few schools anywhere can match Thomas Aquinas College's extraordinary blend of deep Catholic faith and rich academic formation."
– The Most Rev. Charles J. Chaput
Archbishop of Philadelphia
CALENDAR
NEWS FROM THE COLLEGE