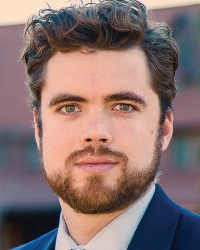 Peter LaFave ('13)Four years ago, as he was completing his Senior Year, Peter LaFave ('13) was recruited by the insurance conglomerate WellPoint for a summer internship at its Thousand Oaks headquarters. Although he did not land the position, he made a favorable impression and, in 2014, the company approached him about a full-time opportunity. Three years later, WellPoint is now called Anthem, and Mr. LaFave, having risen to the title of strategic sourcing consultant, has been named to the supply-chain industry's list of 30 under 30 Rising Stars.
The list, which is a joint venture of the Institute for Supply Management and ThomasNet, is "selected from hundreds of worthy nominees" and features supply-management professionals who "accomplish big things at their companies and exhibit limitless potential," its accompanying story notes. "Representing the best qualities of their generation, they are the profession's future leaders who stand out from their peers in initiative and performance."
His "30 Under 30" profile reports that, when hired, Mr. LaFave "had zero background in business, having graduated from Thomas Aquinas College, a liberal arts school with courses based on reading, analyzing, and debating the great books in a seminar setting." Yet this education instilled in him "an ability to listen and build relationships," which has translated to success in the workplace.
Mr. LaFave credits his Catholic liberal education with preparing him in ways that a conventional business degree never could have. "At the College, in addition to being strengthened by the Faith and the classical curriculum, I learned the skill of listening, and the skill of analysis, and I learned about collaboration, partnership, negotiation, and presentation," he reflects. "So much of the success in my job comes from the ability to listen, especially when I am supporting my business partners here at Anthem or when I am in a full-scale negotiation, sitting across the table from someone. Very often I draw back on my ability to think quickly, to analyze, to be prepared — kind of like we had to be for class every day."
At Anthem Mr. LaFave is "responsible for creating strategies, influencing decision-makers, managing and negotiating deals, and building relationships with both VP-level internal constituents and external executives at major ad agencies," the "30 Under 30" profiles observes. He manages over $150 million in annual spend, and he consistently exceeds his cost-saving goals by 15 percent or more.
At home he is a husband and a father. Mr. LaFave met his wife, Adrienne (Grimm '14), while a student at the College. The couple lives near campus in Santa Paula, California, with their two-year-old son and newborn daughter.
In being named to the "30 Under 30 List," Mr. LaFave follows in the footsteps of Kayla (Kermode '12) Six, a fellow Anthem employee who earned the same honor in 2016. "It is an anomaly for employees from the same company to make the list in consecutive years," says Mr. LaFave's boss, Shane O'Reilly, a graduate of the College's Class of 1995. "I think it is very specific to the work that we are doing here and the work that Thomas Aquinas College has done in terms of cultivating and turning out really great workers, people who can think well."
Anthem's vice president for strategic sourcing, Mr. O'Reilly began recruiting at his alma mater about five years ago, sensing that, given their analytical and communication skills, many of the College's students, "would be perfect to work in business." His intuition has paid off. "We have two alumni in two years who have won this national award, and every graduate who has been here has been rapidly promoted through the organization," he says. "Every one of those, in my mind, confirms to me that my strategy of recruiting at the College is producing good fruit."
There are, as of now, five alumni at Anthem — Mr. LaFave, Mr. O'Reilly, Mrs. Six, Michael Hodgins ('08), and Teresa Letteney ('16). "I  overpay them," Mr. O'Reilly admits. "That is, I overpay them in terms of their knowledge, because when they first come here, they have very little business knowledge. But I am not overpaying them in terms of their capabilities or potential. The talents they bring to the company make them well worth the investment."
NEWS FROM THE COLLEGE
CALENDAR
"Few schools anywhere can match Thomas Aquinas College's extraordinary blend of deep Catholic faith and rich academic formation."
– The Most Rev. Charles J. Chaput
Archbishop of Philadelphia