Posted: March 30, 2016
"A parent calls me and says, 'Maureen, I don't know what to do. I am at the end of my rope. I have been called to the school three times this week. They're suspending my child. What am I going to do?'"
It is a "repeating story," says Maureen Gahan ('76), one she heard thousands of times during her recently concluded tenure as the founding director of Milestones Clinical and Health Resources in Bloomington, Indiana. The story typically begins when a child first goes to school, and intellectual disabilities or mental-health problems start to surface — or become unmanageable. "Parents notice that one of their children may not be developing the same way their others did, or the child has trouble in school. Nobody knows what to do."
For the last 15 years — the second act of a remarkable, three-decade career as a social-services executive — Miss Gahan worked to find answers for families struggling with mental-health disorders or intellectual disabilities. On September 30, that career came to an end, as Miss Gahan retired as the director of Milestones, a job that, at one time, she never would have imagined for herself, at an institution that would not have existed without her initiative, in a field that, though not her first choice, proved to be her calling.
Back to School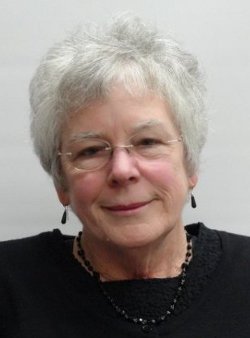 A social-services pioneer, Miss Gahan showed hints of her trailblazing ways as early as 1972 when, as a 24-year-old college graduate, gainfully employed as a medical technician in New York City, she boldly chose to seek a second undergraduate degree. Moreover, the college she opted to attend was only one year old. It was on the other side of the country. It had just 26 students and no accreditation, no alumni, and no permanent campus.
"Catholics United for the Faith was promoting the establishment of Thomas Aquinas College, and I went to one of their events," she says. She remembers watching an address from Dr. Ronald P. McArthur, the College's founding president. "I listened very carefully to what he had to say, about how there is a truth and we can come to know it. I was not so sure about that, so when he was finished, I started a debate with him. You can imagine how that went."
The debate may have gone poorly for Miss Gahan, but its outcome was a blessing. Inspired by Dr. McArthur's vision of Catholic liberal education, she was one of 36 students to enroll in Thomas Aquinas College's second class. She thrived in the College's academic program, engaging in the life of the mind, the great books, and the study of the arts and sciences. Upon graduating she entered a doctoral program in history and philosophy at Indiana University. Five years later, after completing her coursework, she envisioned a future in higher education — until Providence intervened.
Life's Work
"I am very drawn to the marginalized," says Miss Gahan. "I think it's a huge mystery, the circumstances that some people are born into, people with intellectual disabilities, people who are born blind, deaf, or who cannot walk. That is a mystery to me, but they are creatures of God and have value and worth and dignity, even if they are not valued in our culture and society's terms."
Serving the marginalized, she began to discern, would be her life's work. "I was interviewing for teaching positions at liberal arts colleges, and I thought, 'No, I don't think this is the path God wants for me.' I remember very clearly praying, and praying, and praying, and I realized that even though academic life was very appealing to me, my true vocation was probably in social action."
In 1984 Miss Gahan took a job with Stone Belt, one of Indiana's oldest and largest service providers for individuals with developmental disabilities. There she helped to establish and operate group homes for the mentally handicapped, quadrupling the number of homes in the program by 1997. Around that time, "the model for caring for adults with intellectual disabilities was changing," she says. "People were getting more independent. So I started a residential program to assist people in getting their own apartments." By 2000 she would oversee an annual budget of $10 million and a staff of 500.
Through her work at Stone Belt, Miss Gahan became aware of a vast but largely unmet social need. "I recognized there was a huge demand for mental health services for the population I was serving, adults with developmental disabilities," she says. "Their cases are complicated, and local mental health centers wouldn't see them. There was really no place for them to go." So she decided to create one.
Milestones
In 1994, while still managing Stone Belt's Community Living Services program, Miss Gahan began studying for a clinical degree in marriage and family therapy at the Christian Theological Seminary in Indianapolis. After graduating magna cum laude in 2000, she established a small outpatient clinic for adults with intellectual disabilities as well as for another underserved population — children.
"Treating children is not a way to make money in medicine," Miss Gahan explains. "The populations that we aimed to serve — children, teenagers, adults with intellectual disabilities — most are on Medicaid, and the reimbursement for Medicaid is the bottom of any reimbursement scale in medicine." Moreover, treating these populations requires specialized training. "How do you assess somebody who is nonverbal? How do you assess a 4-year-old or a 5-year-old? Lots of people can assess people who have usual ways of communicating and reporting, but we were focused on handling these kinds of hard cases."
As a result, very few mental-health professionals offer the sort of service that Miss Gahan was now making available, and the pent-up demand proved overwhelming. "We were getting calls from everywhere. Families would travel from all over the southern part of the state, often driving for as long as three hours to come to us," she recalls. "So I put together a business plan, and I went to the agency, and I said, 'I would like to expand this program.'"
At the time of the Stone Belt clinic's opening, Miss Gahan, along with several clinical staff, began providing services in a small rented office. Within five years, the clinic — now rebranded as Milestones — would occupy its own building and employ two full-time psychiatrists, 10 licensed therapists, and 10 licensed social workers. Miss Gahan relinquished her duties as Stone Belt's residential director, and eventually stopped seeing patients, in order to devote her energies to administering the clinic. Milestones, meanwhile, developed an expertise in treating a wide range of disorders, including anxiety, obsession-compulsion, and attention-deficit.
Today Milestones assists more than 2,000 patients per year. "We care for children, some as young as eight years old, with bipolar disorder, children who have psychoses, who are traumatized, abused, neglected. We treat a lot of that here," Miss Gahan observes. "What is wonderful is the resiliency of children and the hope, watching them get better and get well. A student who couldn't go to school or sit in the classroom is now going to school; a child who had 10 rituals he had to go through before getting on the bus, which he often missed, now knows how to not have OCD rule his life."
Through it all, she says, her goal was never merely to help patients. "My purpose was always to empower them, to support them, to let them figure out what they can do, to find their own path in life, their own vocation, to learn their value and their worth."
The Right Time
With the nature of healthcare changing rapidly under the Affordable Care Act, and after 30 years of relentless, 50 to 100-hour workweeks, Miss Gahan has concluded that now is "the right time to let others take over." In honor of her retirement, Stone Belt held not one, but two celebrations in September — the first for her colleagues, the second for her clients and their families, as a way for so many to express their deep gratitude.
As she looks back, she considers the path not chosen, as well as the similarities and differences between the career she once planned for herself and the one that God planned for her. "For a while I thought that maybe I would come back and teach at the College, because that was the breadth of my intellect and my ability," she reflects. "So it is very interesting to me that, rather than becoming a scholar, I ended up working with people with intellectual disabilities." Albeit in a different manner than she had once expected, she was still engaging in the life of the mind.
Although she did not undertake a career in liberal education, Miss Gahan regards her experience at the College as nonetheless integral to her many accomplishments. "One is called to where one is called, and once you determine that it is your true vocation to do something, everything else falls into place," she says. "Thomas Aquinas College had everything to do with my ability to do what I have done professionally, to be able to think, to write, to articulate, to clearly state a position, to analyze. I am very grateful for that."
As for her future, she is undecided. "I would like to take some time to pray and to think about this next stage," Miss Gahan says. "Retirement, for me, is a major change, but I have a pretty good discernment process. I pray, I meditate, I think, I seek the counsel of others, and I remain open to the will of God. So that's what I am going to do for the next six months." What trails God asks her to blaze next remain to be seen.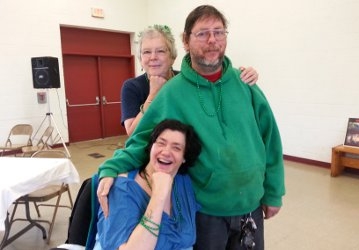 Maureen Gahan ('76) with some of her Milestone clients at her retirement party in September
"The texts we are reading ask the fundamental questions in life, which every human person needs to be able to answer. You want to answer these questions, and you experience the beauty of wonder in discussing them."
– Suzie Jackson ('15)
Manassas, Va.
"I am deeply touched by the quality of the intellectual and spiritual formation that you offer. The study of philosophy should lead to a conviction that truth can be known, articulated, and defended. Your college shows that this is possible, and on a high level!"
– Rev. Wojciech Giertych, O.P.
Theologian of the Papal Household
CALENDAR
NEWS FROM THE COLLEGE