Posted: January 10, 2018
By Rev. Robert Marczewski
Chaplain
Thomas Aquinas College
January 10, 2018
"Our Security Ultimately Comes
from God and God Alone"
This Mass, the votive Mass in honor of St. Joseph, is offered for all the victims of the Thomas Fire, and especially we pray for the repose of the soul of Roy Rohter, who was a victim of a mudslide just two days ago.
As we continue to pray for the victims afflicted by the Thomas Fire and the different floods — people who lost their property, suffered hardships, and even those who lost their lives — we realize that we have to face evil in this life. And facing an evil of natural disasters makes us think and even re-evaluate our attitudes, sometimes even our lives.
Inexplicable disasters can lead many people to despair, frustration, and even loss of faith, but they can also strengthen our virtues and help us grow in our relationship with God. They can bring out what is best in us.
So as we pray for those who have been afflicted by evil, we realize that life is mysterious. God's will and His providence are mysterious. They can't be penetrated by our mind. There are events, situations, that we have no right to understand. Some things must be humbly accepted and not figured out.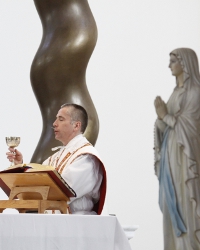 I remember on December 5, Tuesday, the second day of the fire, as I was on Ojai Road, taking a look at different houses. At some of the houses there were just the chimney and ashes, and then next door there were houses untouched. I spoke with one of the neighbors, and she said, "Nobody came to our rescue last night. We lost five houses on our street."
Then I remembered how bravely firemen were fighting the fire here on our campus. You can think about these things, and you realize you cannot just figure it out, it is all part of God's will, His providence. And there is something very important in our spiritual life when it comes to God's will: It des not have to be understood, but it must be accepted.
Todays' responsorial Psalm is, "Here I am, Lord. I come to do your will." Doing God's will is first and foremost about accepting God's will. Doing God's will is not just doing things we plan, that are good, that we believe God wants us to do. It is about adhering to God's will, and the most difficult part is accepting that which God, in His providence, wills or allows.
Secondly we need to remember that God brings good even out of evil. He can cure and drive out demons, like in today's Gospel, or He can come in fire. He can be present in our lives through natural disasters. And we have experienced so many acts of mercy, charity, people opening their homes to the needy, helping financially and in other ways — so much good in the midst of that evil.
Again, I recall that first night, when we were here on the soccer field — you probably know the story very well —siting in our cars, watching what was happening. There was a good sense of humility, a sense of that helplessness that humbles you, that helps you realize, "I am not in charge here," that helps you realize that God is in charge, that your security dos not come from insurance, not even from those brave firemen. Our security ultimately comes from God and God alone. And I can't figure it out. I cannot make sense, humanly speaking, when facing those events, but I can be humble, and I can put my trust in God.
Finally, it is important to remember that God is always good and powerful; that He is at the same time loving and mysterious; and we are oftentimes like that young Samuel, who was not familiar with the Lord, or who was becoming more and more familiar with the ways of the Lord. And so it is with us that the Lord reveals to us also through those inexplicable natural disasters, that in those times we may come to know the Lord and His love, His mercy, His goodness even more. Another paradox of our Faith: How can that be? It can be that way. So today as we still experience and deal with consequences of natural disasters, let us remember that those times could be for us a great occasion for charity and compassion and also for growth in trust and humility. Amen.
Streaming / downloadable audio:
---
Receive lectures and talks via podcast!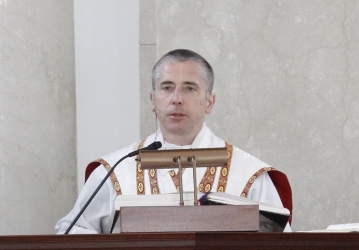 "Learning from the great books, you can see the questions that history's greatest thinkers have asked and all the ways that they have tried to answer them. You're able to see what's right about what they're saying, but also what's wrong. The more your opinion is challenged, the more you have to refine it in order to get closer to the truth."
– Caleb Skvaril ('19)
Asan, Guam
"With an academic program as rigorous as Thomas Aquinas College's, and with a long line of successful alumni, Thomas Aquinas College is essential to the health of our Church in the United States and beyond."
– The Most Rev. Thomas Daly
Bishop of Spokane
CALENDAR
NEWS FROM THE COLLEGE